2021-10-11 / 15 Dag 2 ud af 5 dage i Havkajak omkring Anglesey, Wales - 2021-10-11 / 15 Day 2 out of 5 days sea kayaking around Anglesey, Wales
Danish / English: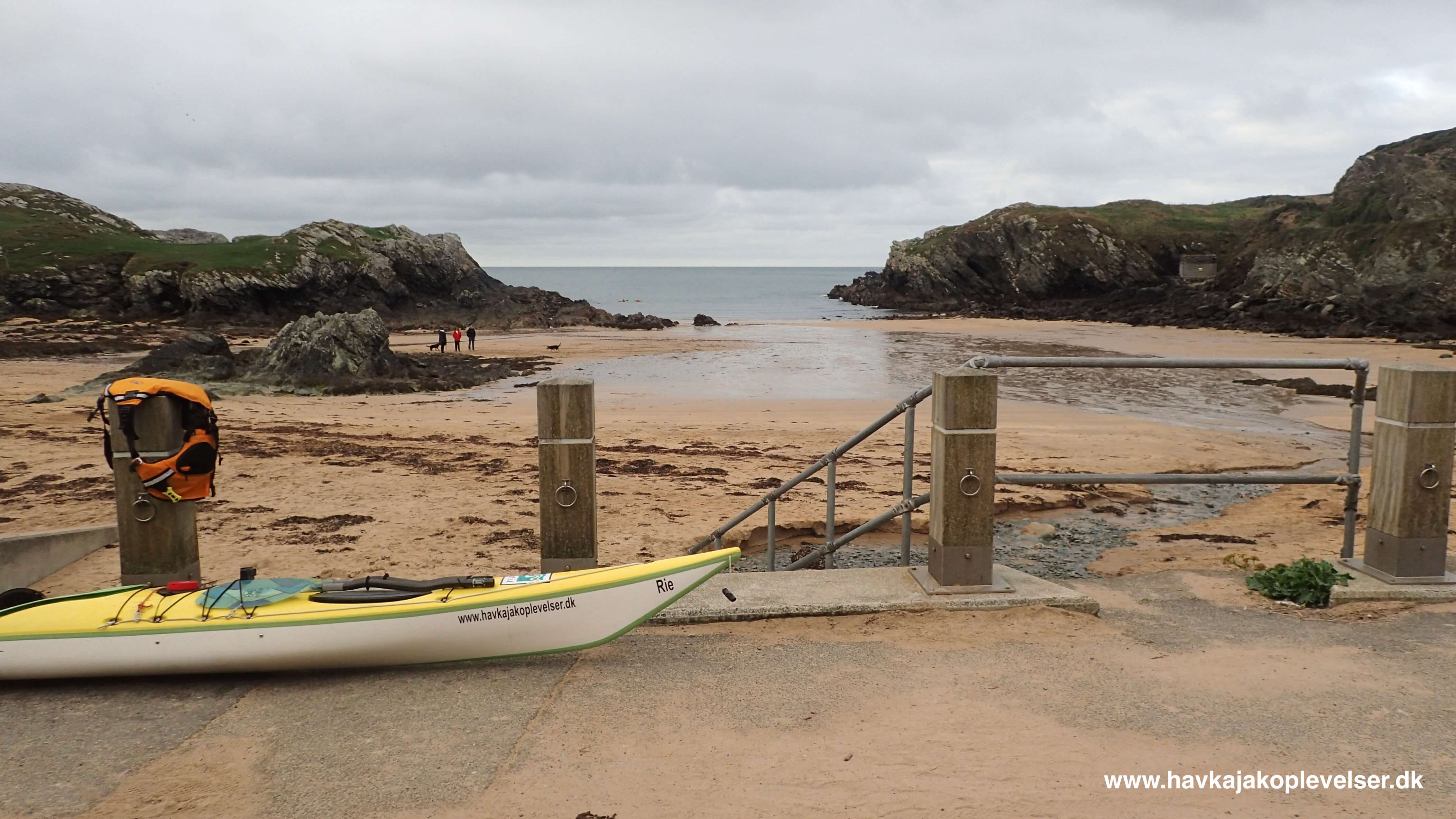 - Dag 2 skulle bruger i Penrhyn Mawr, så Porth Dafarch var vores start og slut sted.
- Day 2 was to be spent in Penrhyn Mawr, so Porth Dafarch was our place start and end the day.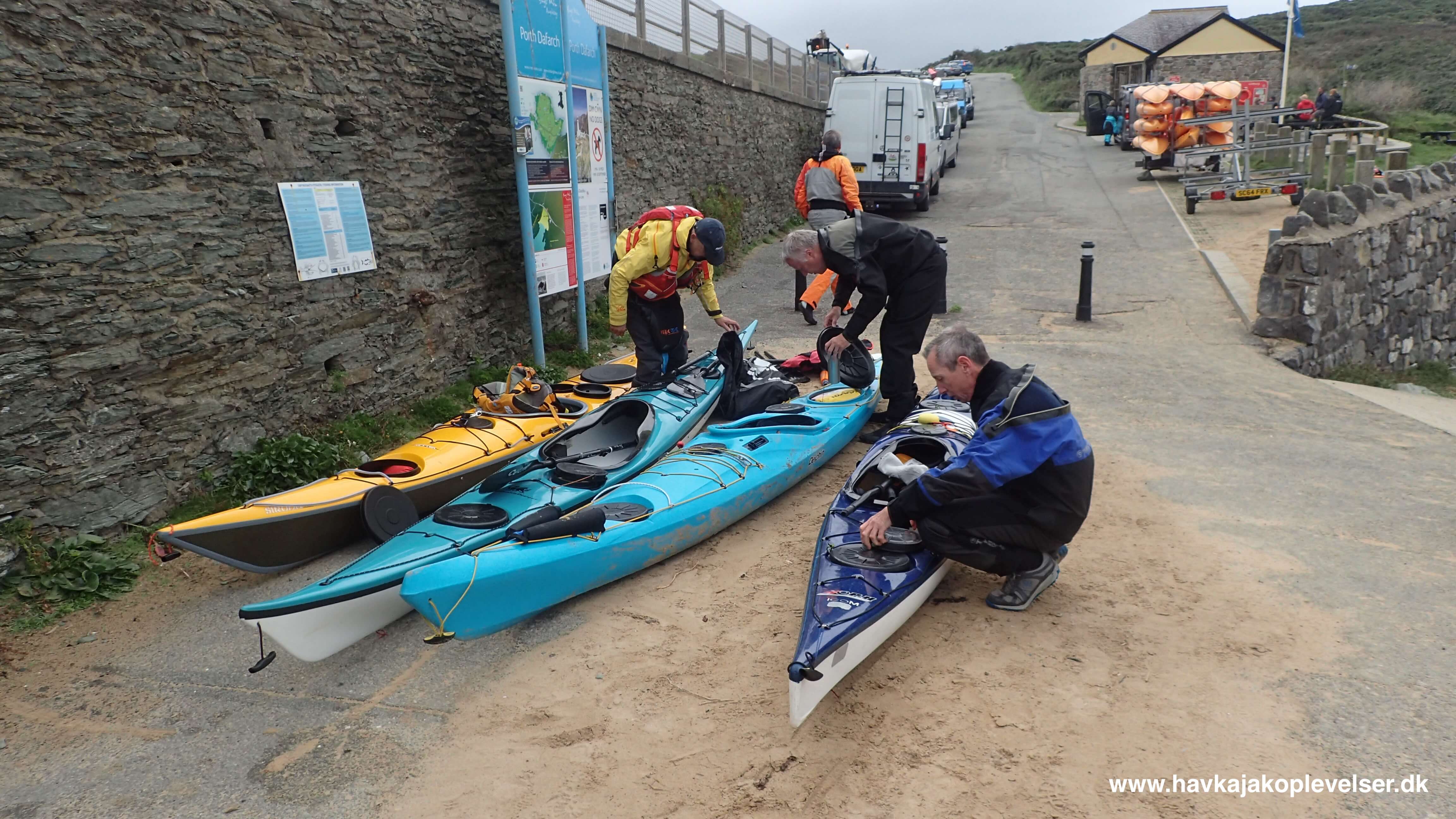 - Kajakkerne blev pakket til dagstur da planen var at finde et sted hvor vi kunne lande til frokost.
- The kayaks were made ready for a day trip as the plan was to find a place where we could land for lunch.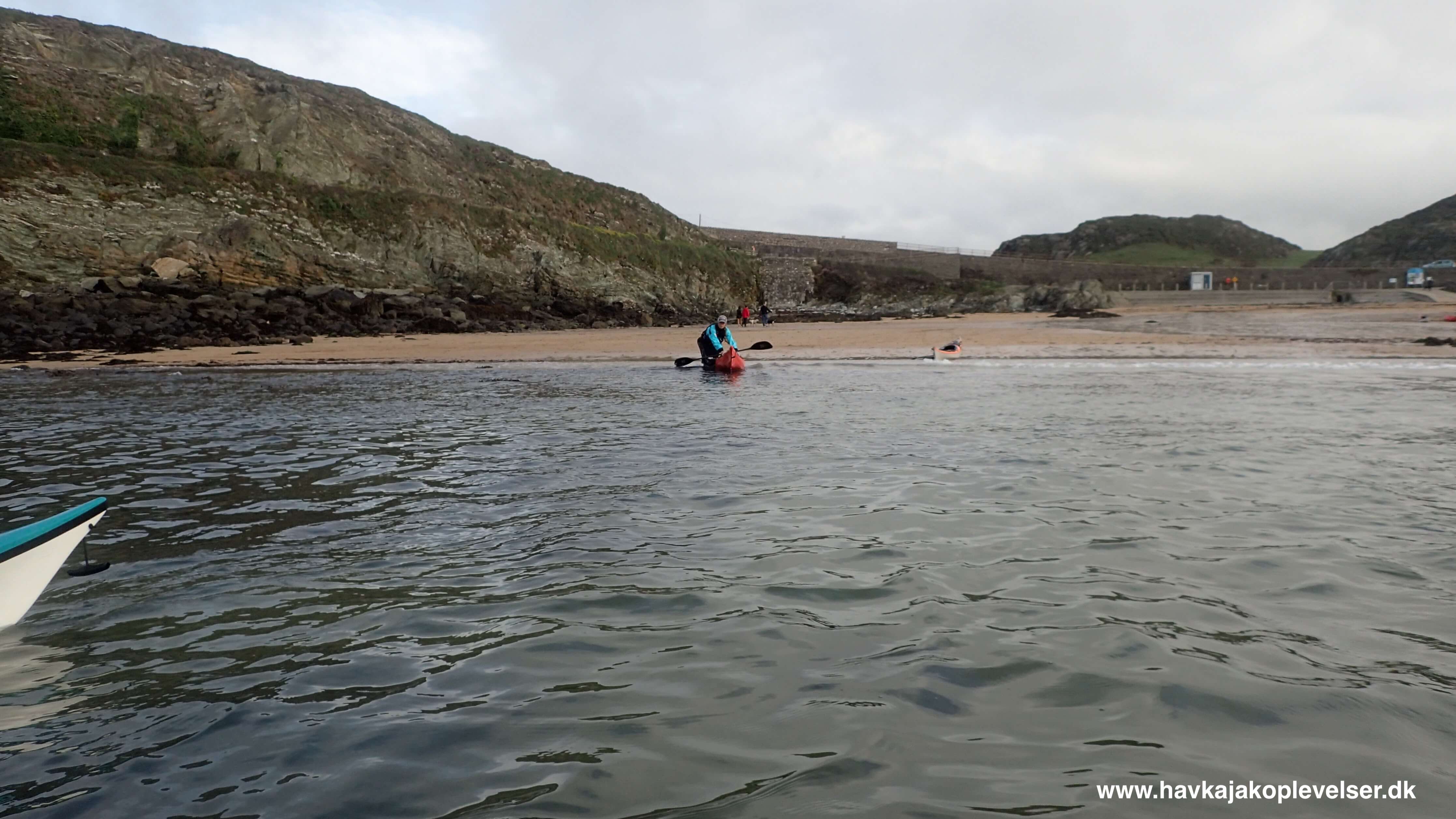 - Vi kommer på vandet.
- We get on the water.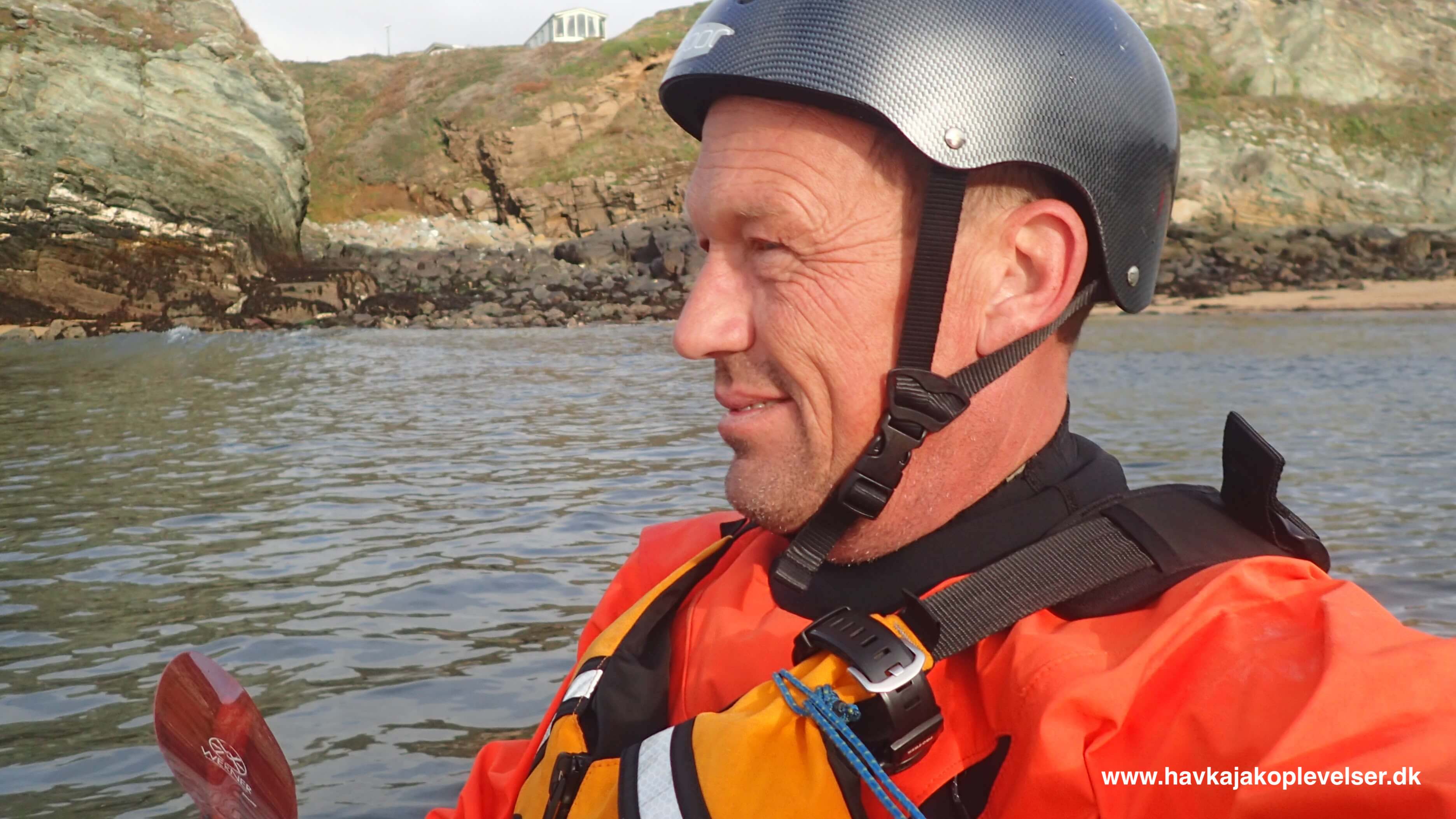 - Dagen vil helt sikkert byde på udfordringer og en masse læring.
- The day will definitely offer challenges and a lot of learning.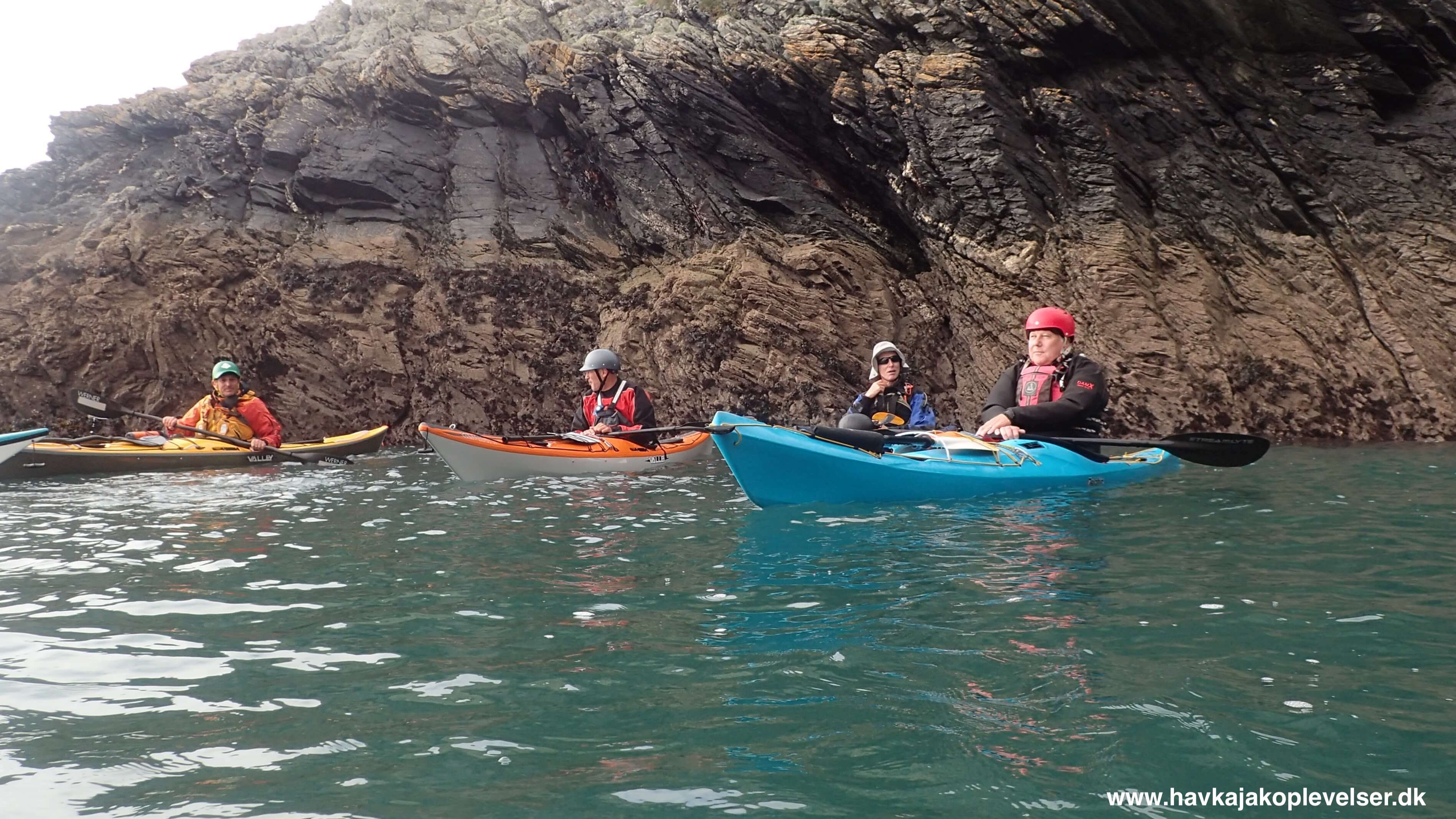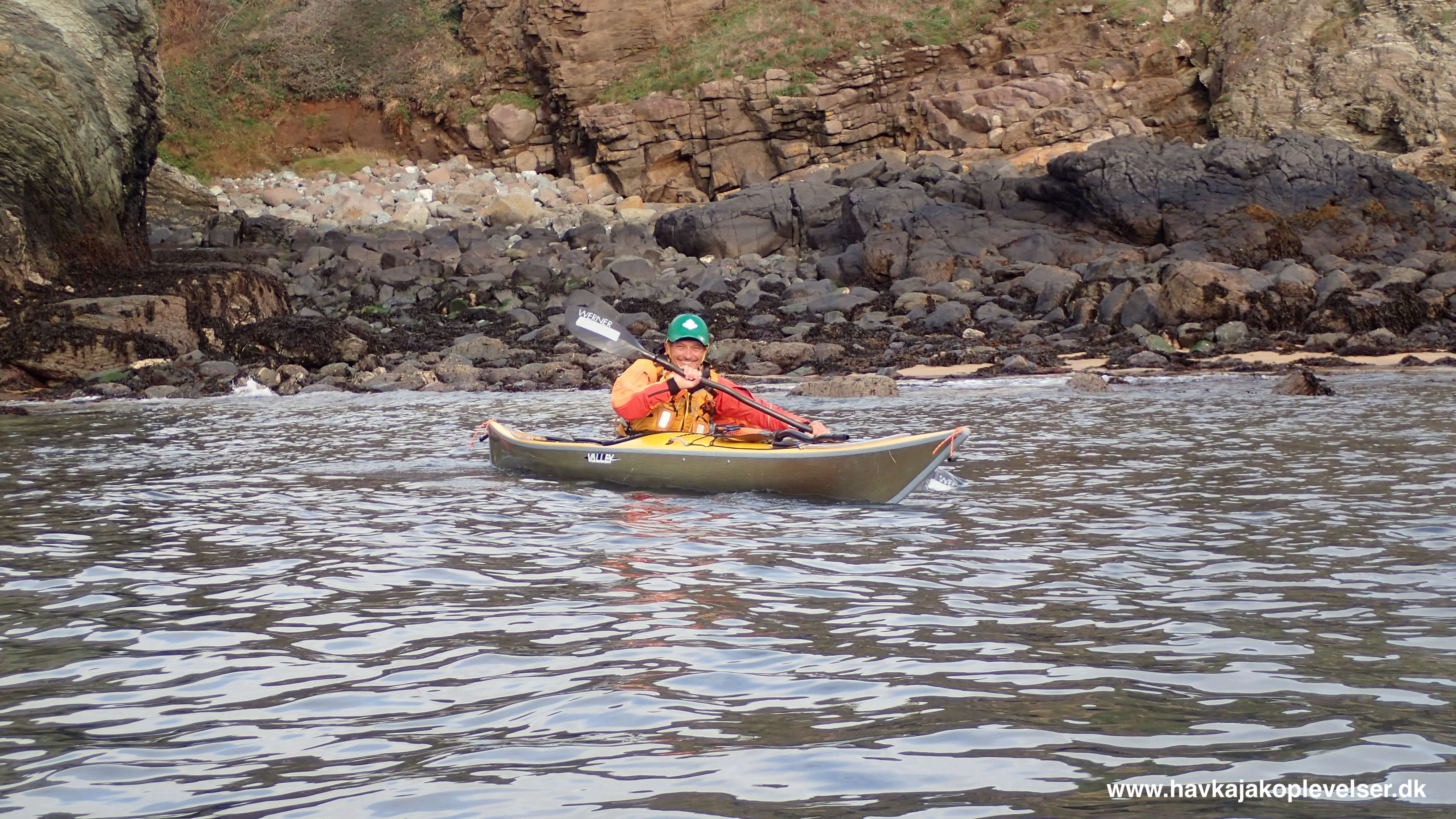 - Fulde af forventninger tager vi afsted mod Penrhyn Mawr.
- Full of expectations, we set off towards Penrhyn Mawr.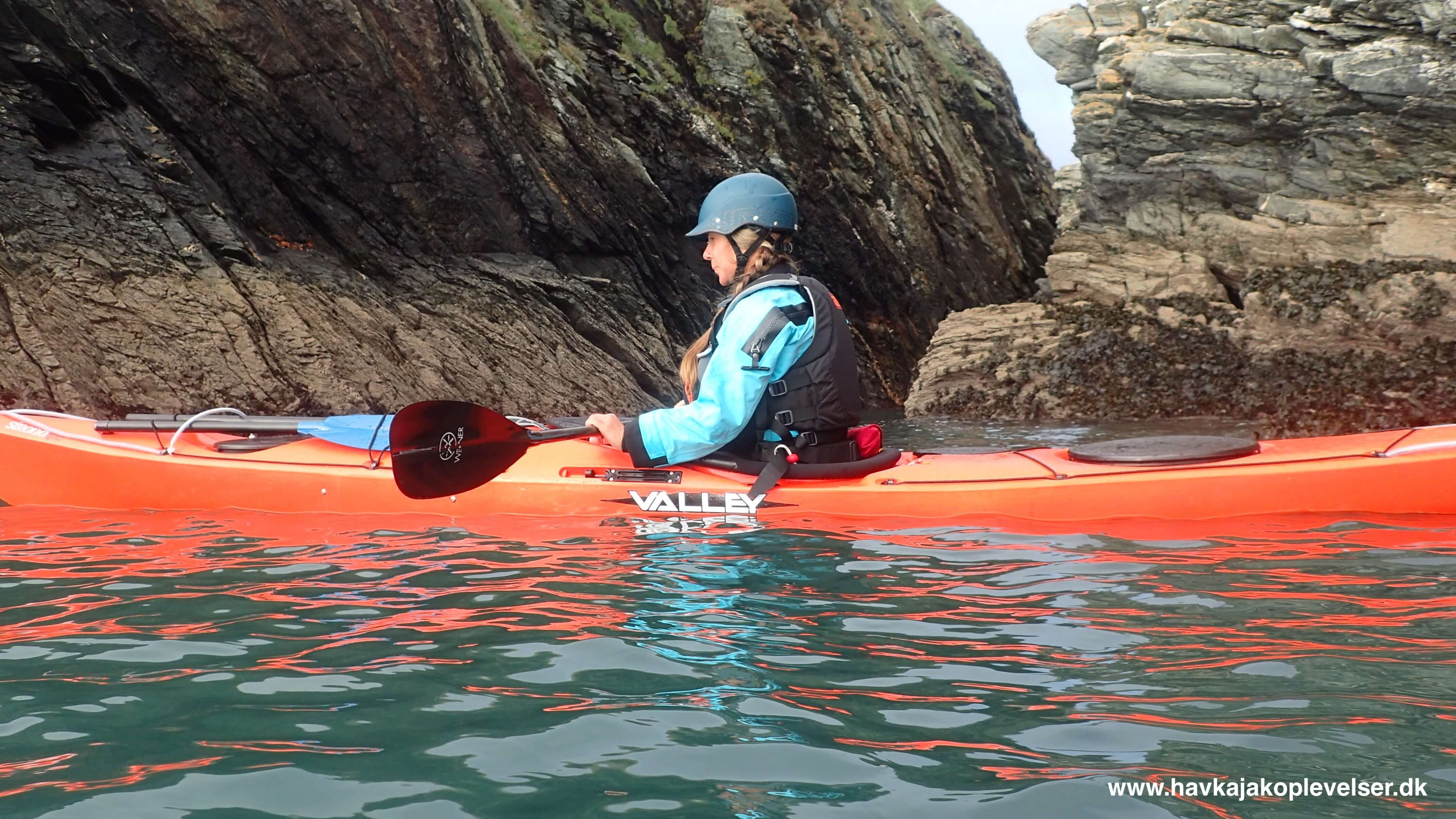 - Turen starter helt tæt og helt inde langs klippekysten.
- We start very close in along the rocky coast.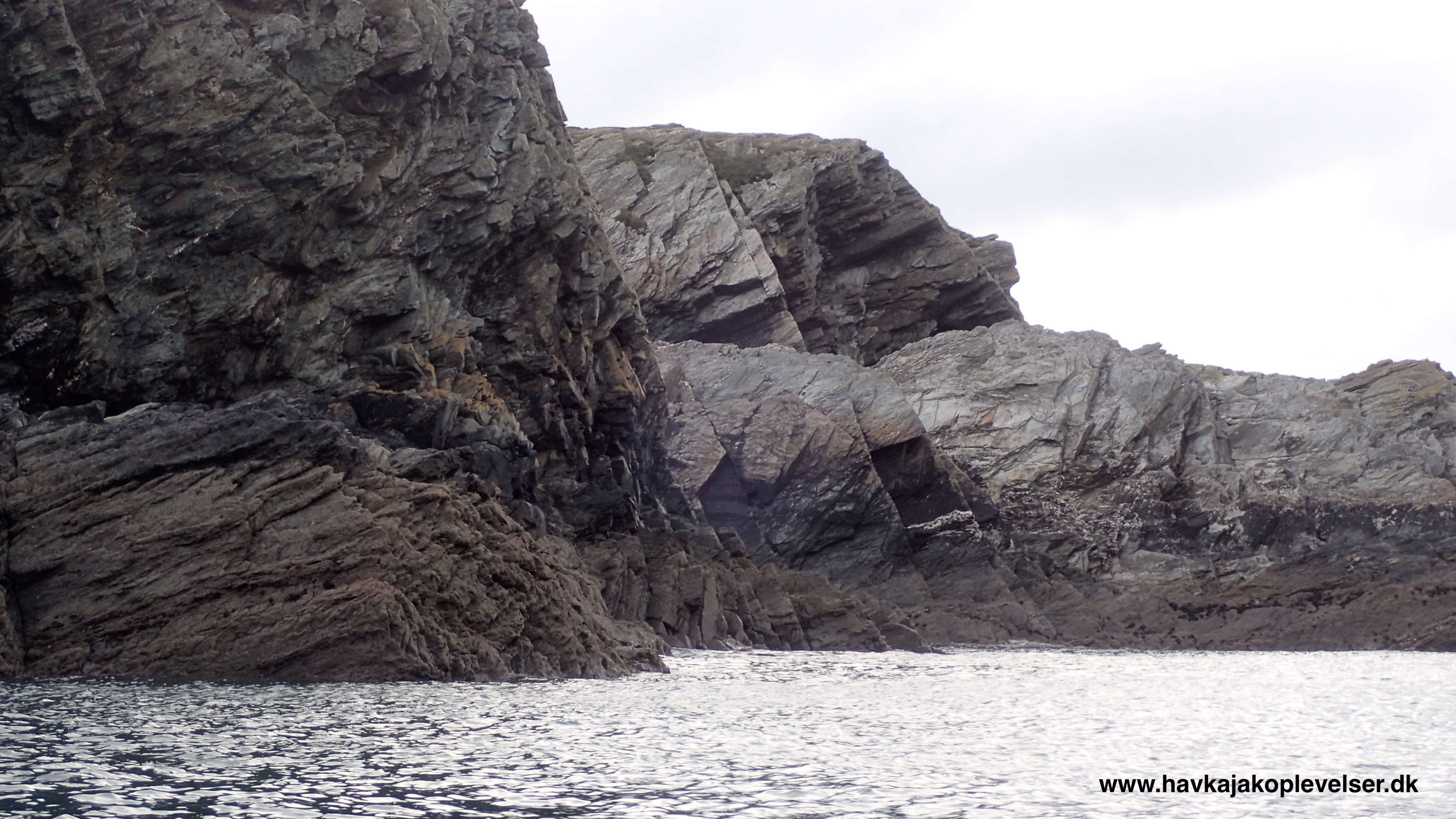 - Kystlinjen i sig selv er en smuk oplevelse.
- The coastline itself is a beautiful experience.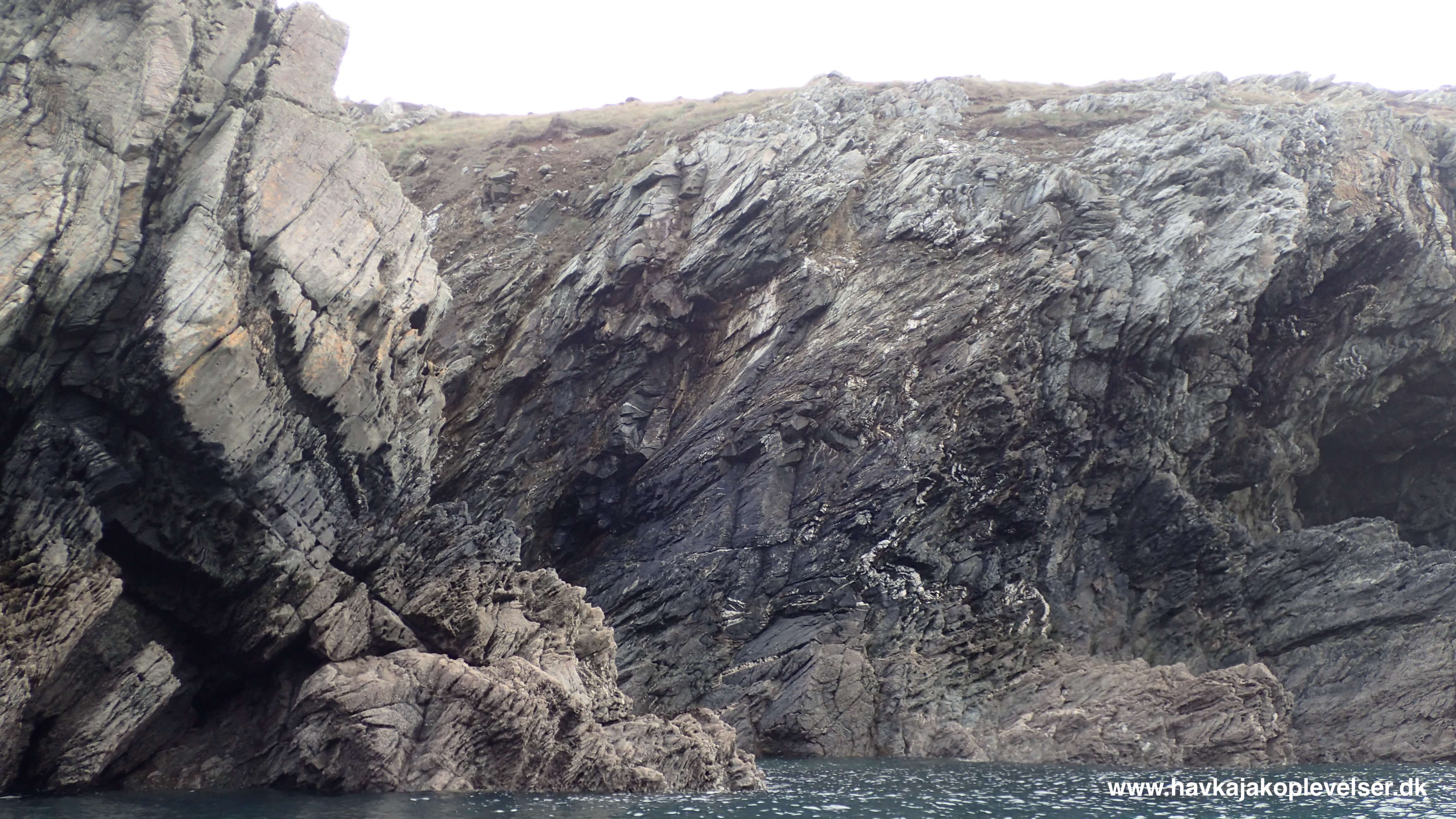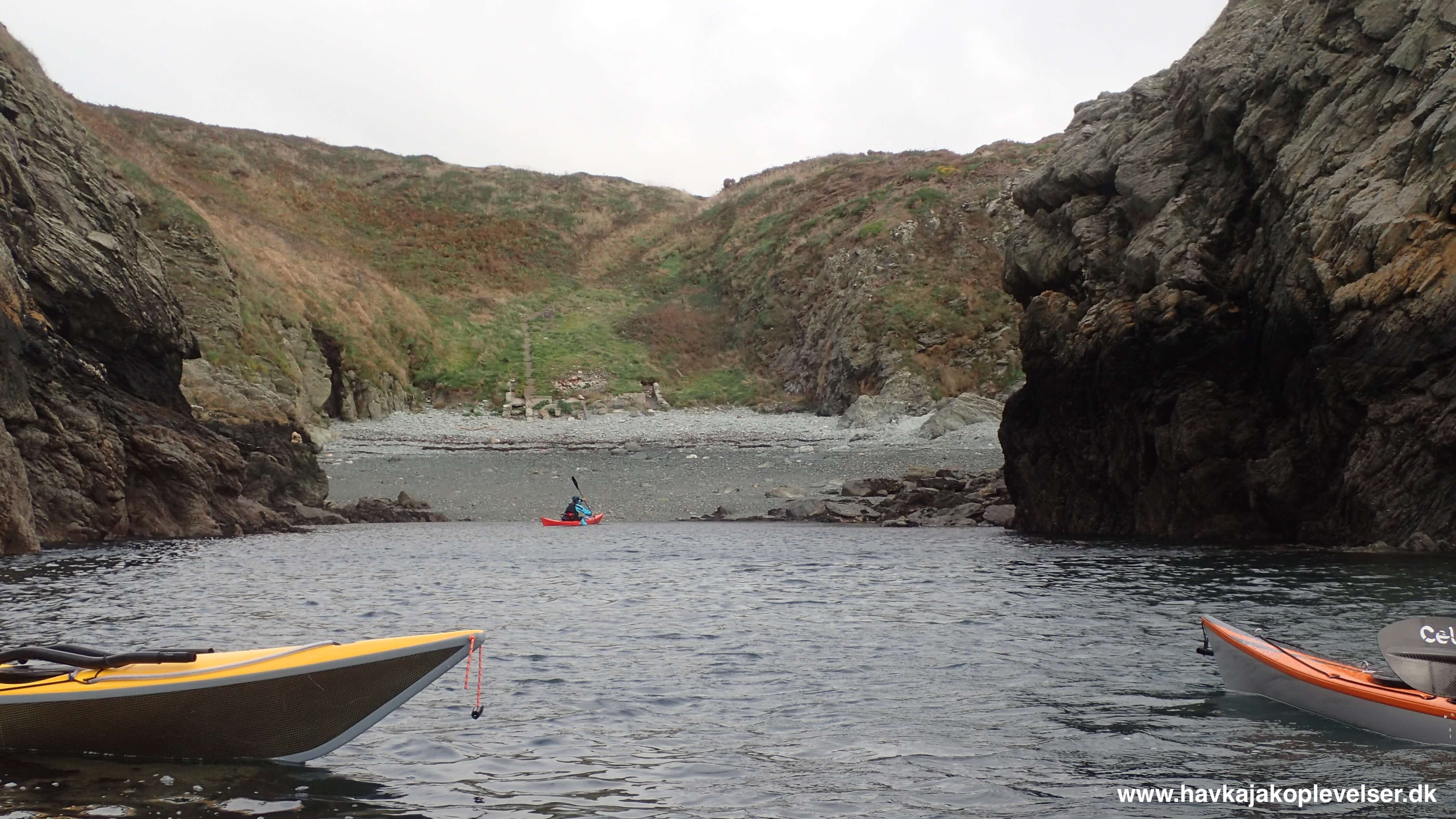 - Der ganske få steder man har mulighed for at gå i land, men dem der er får mig til af føle jeg er langt væk fra civilation.
- There are very few places you have the opportunity to land, but those that are make me feel I am far away from civilization.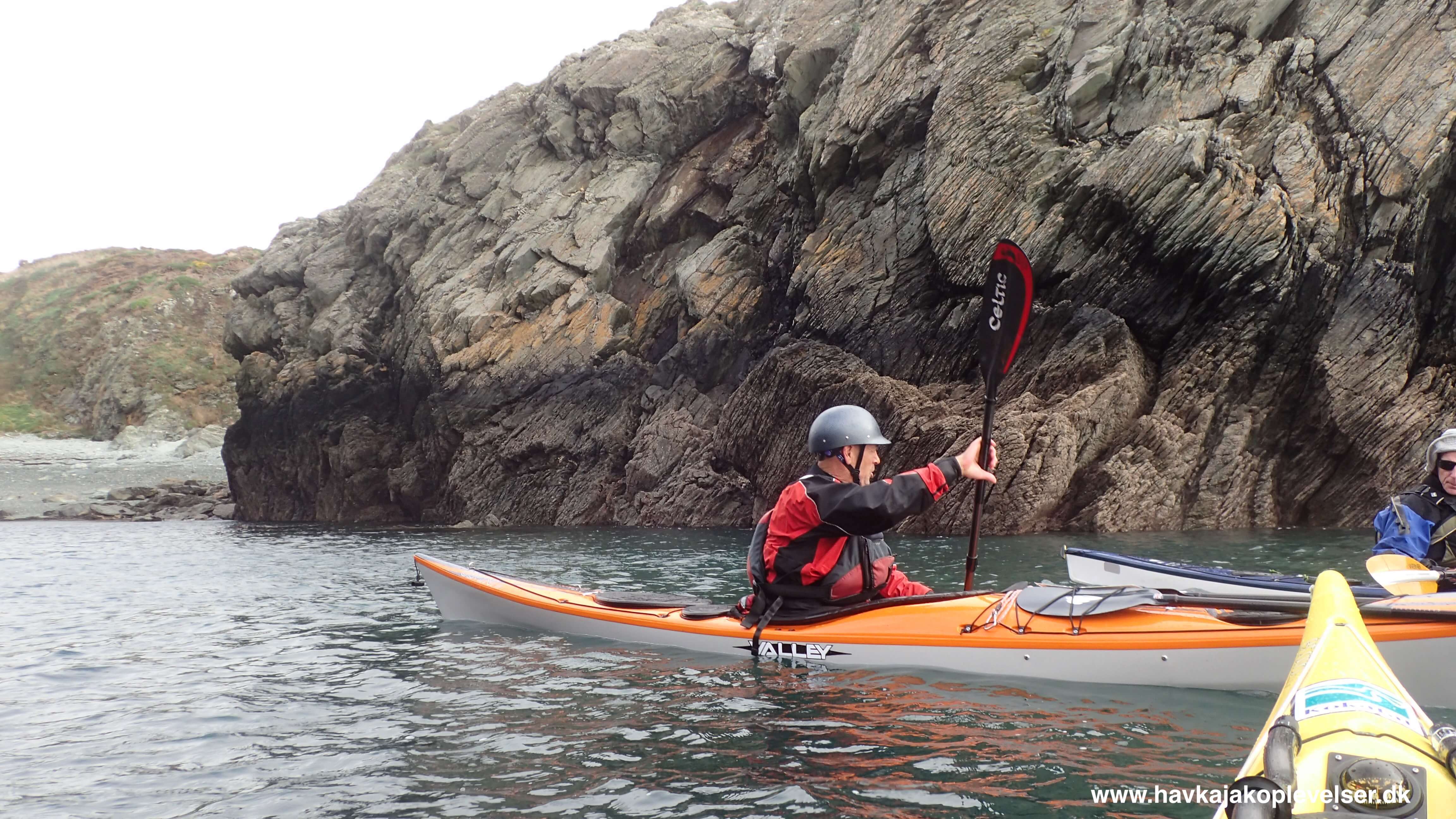 - At lande på selve klipperne er ikke rigtig en mulighed.
- Landing on the rocks themselves is not really an option.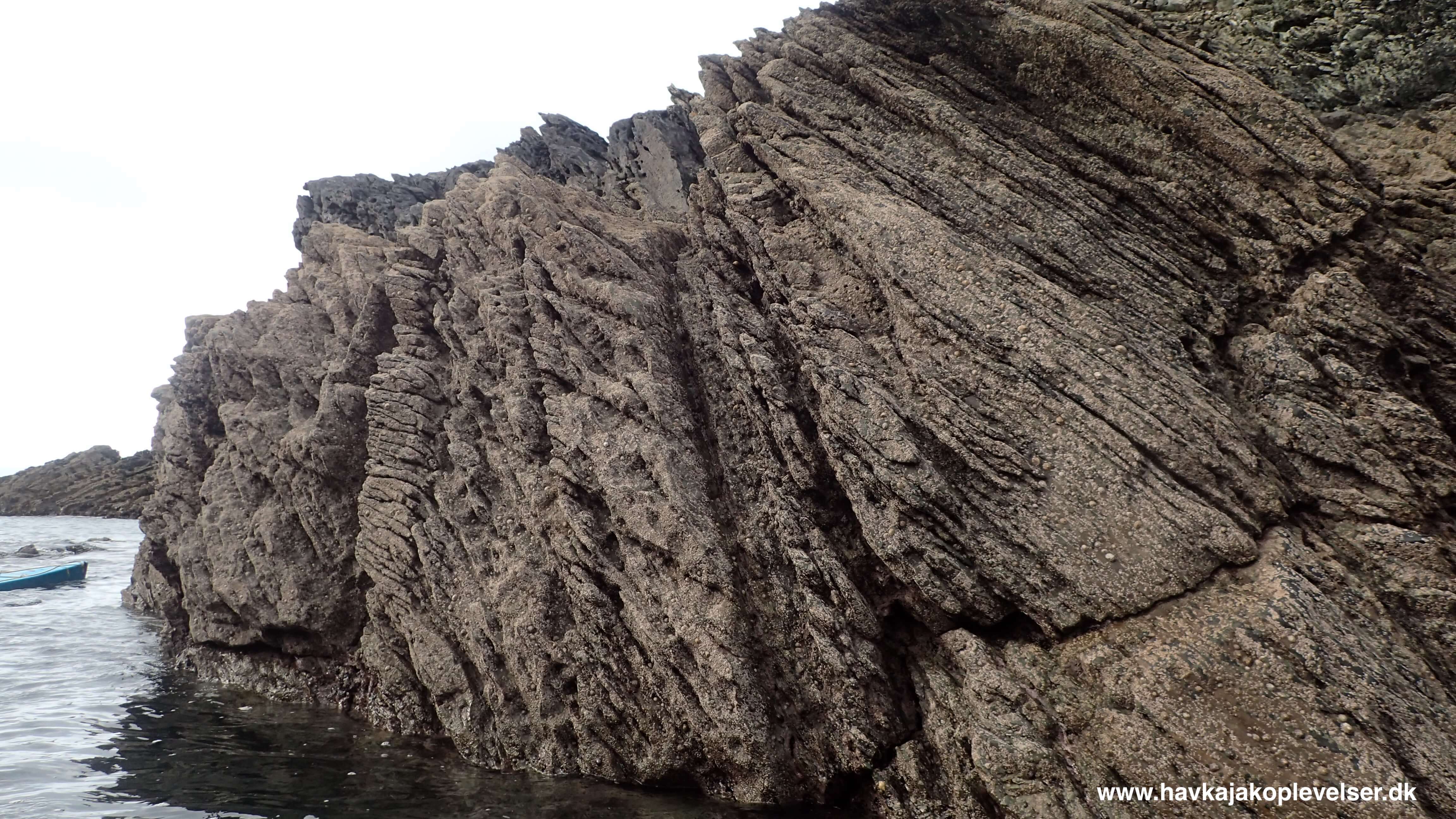 - De ru silt klipper.
- The rough silt rocks..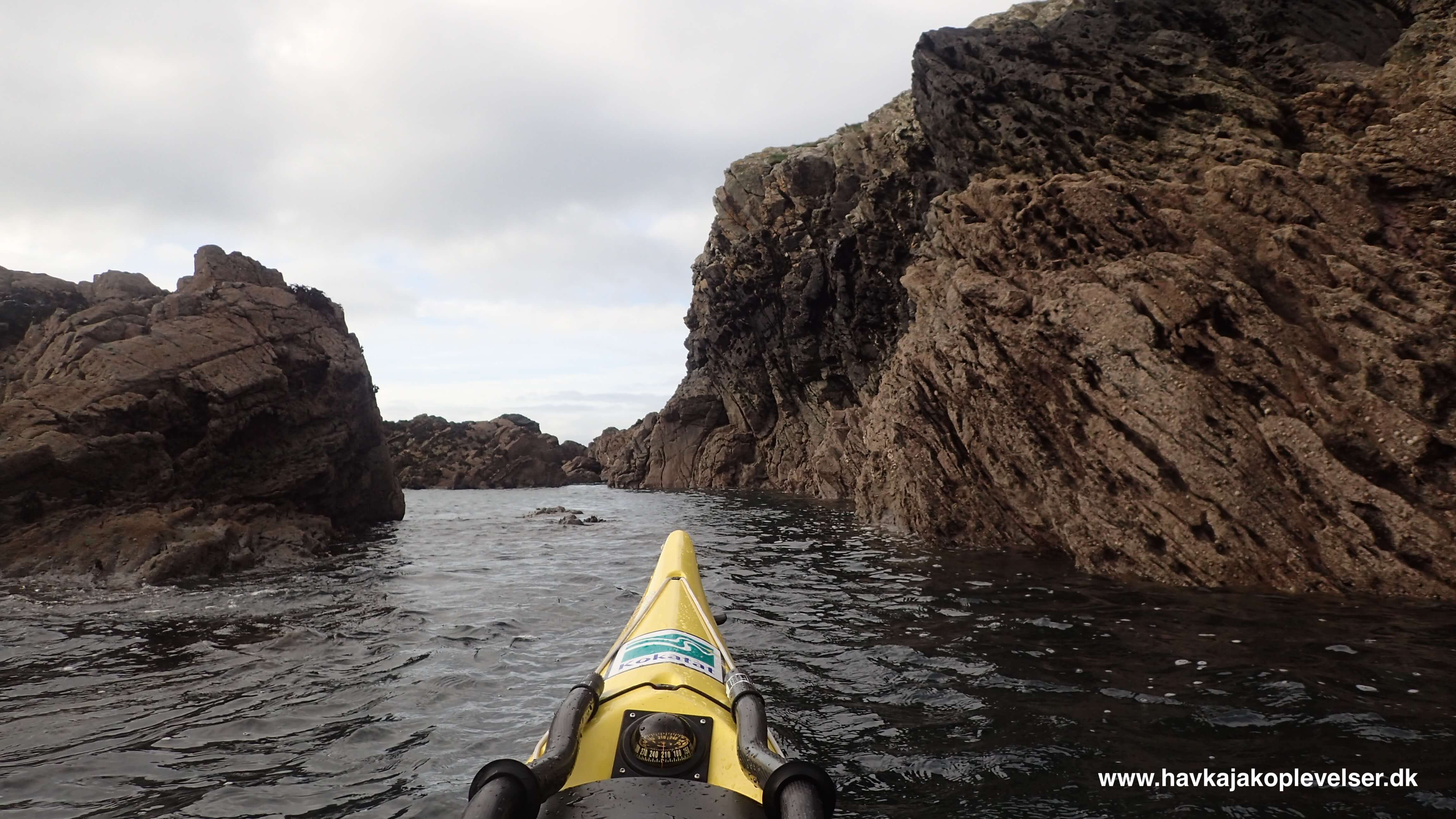 - Masser af muligheder for rock hopping.
- Lots of opportunities for rock hopping.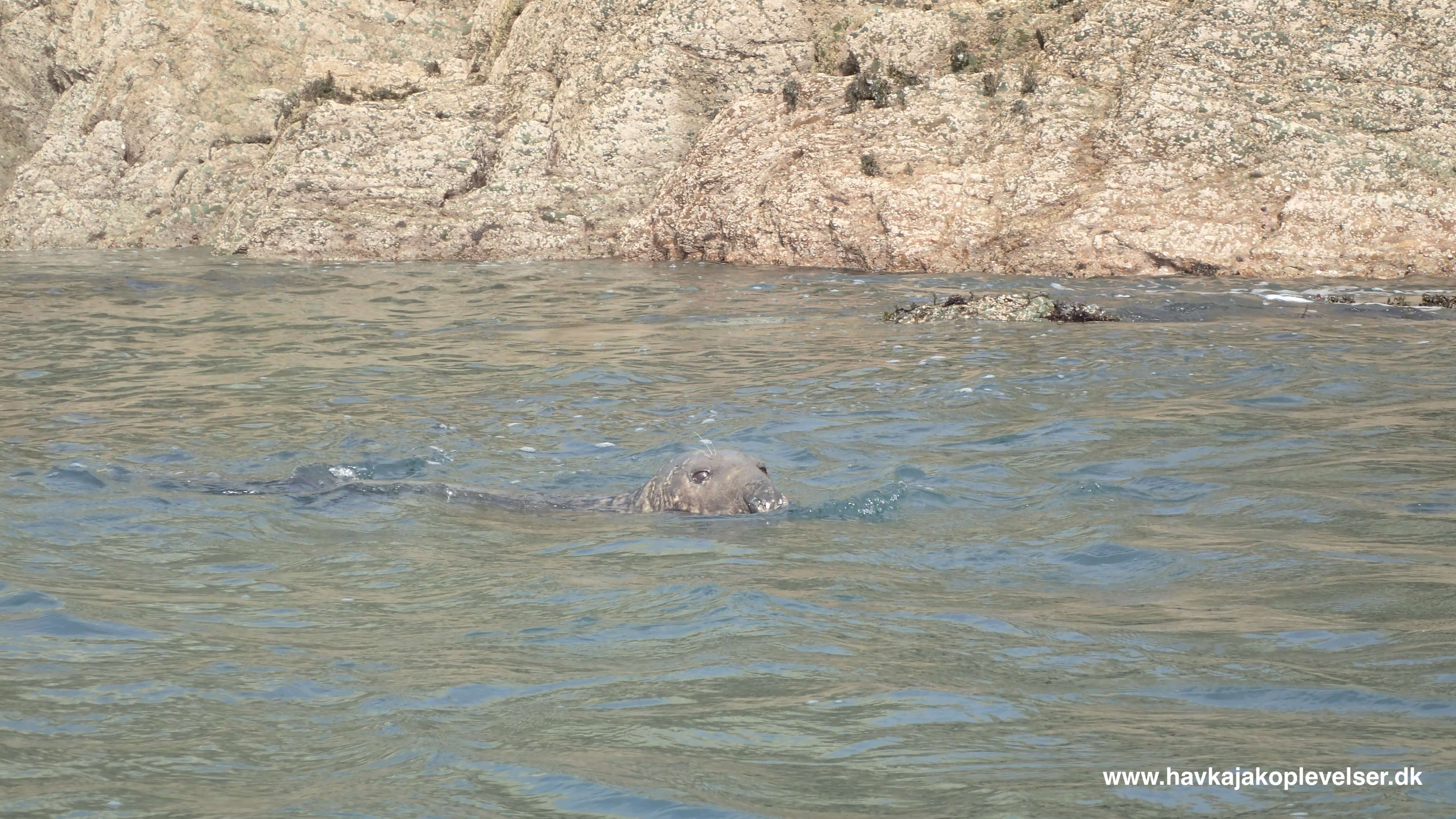 - De Atlantiske gråsæler er fast beboer omkring Anglesey, og de er store - hunner vejer op til 200 kg. og hanner ikke mindre end op til 300 kg.
- The Atlantic gray seals are permanent residents around Anglesey, and they are large - females weigh up to 200 kg. and males no less than up to 300 kg.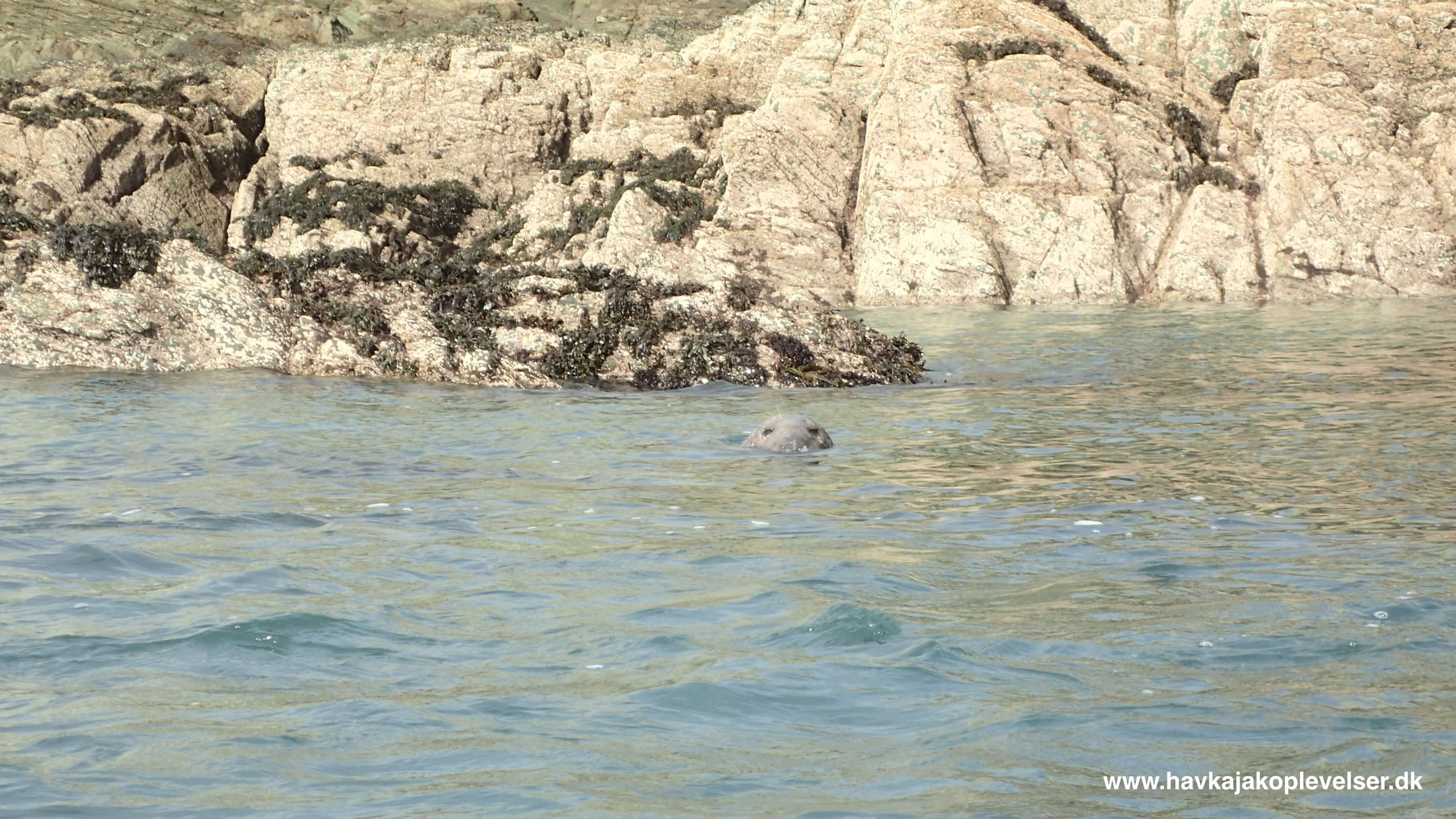 - Nysgerrigt følger de os. Et imponerende dyr, så ubesværet de bevæger sig i vandet hvor man tydeligt kan se de er i deres rette element - men det er også facinerende at se dem op land - de er virkelig store.
- Curious, they follow us. An impressive animal, so effortlessly they move in the water, where you can clearly see they are in their right element - but it is also fascinating to see them up land - they are really big.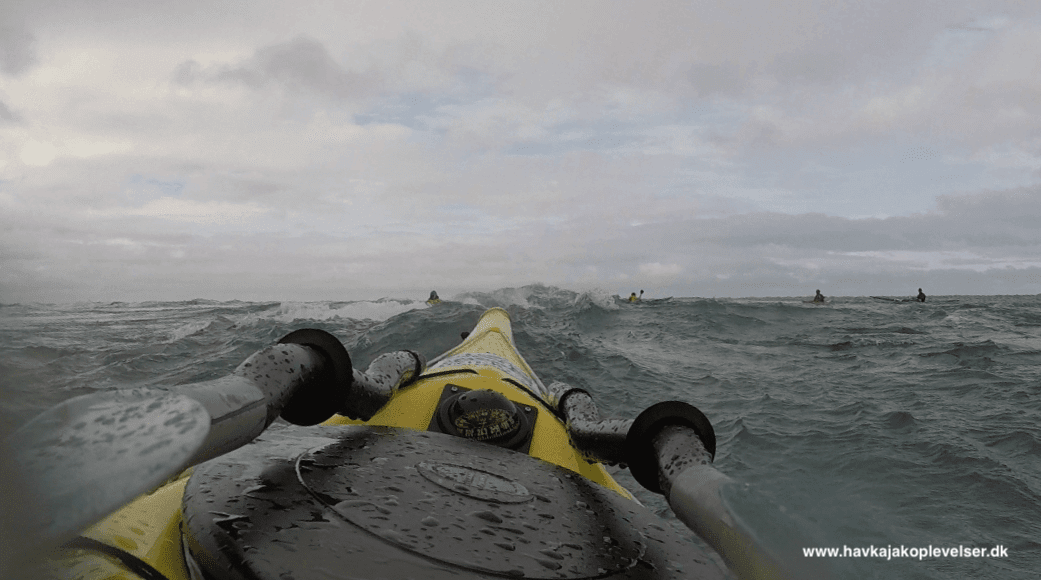 - Fremme ved Penrhyn Mawr som tidevands racet starter.
- Arriving at Penrhyn Mawr as the tidel race starts.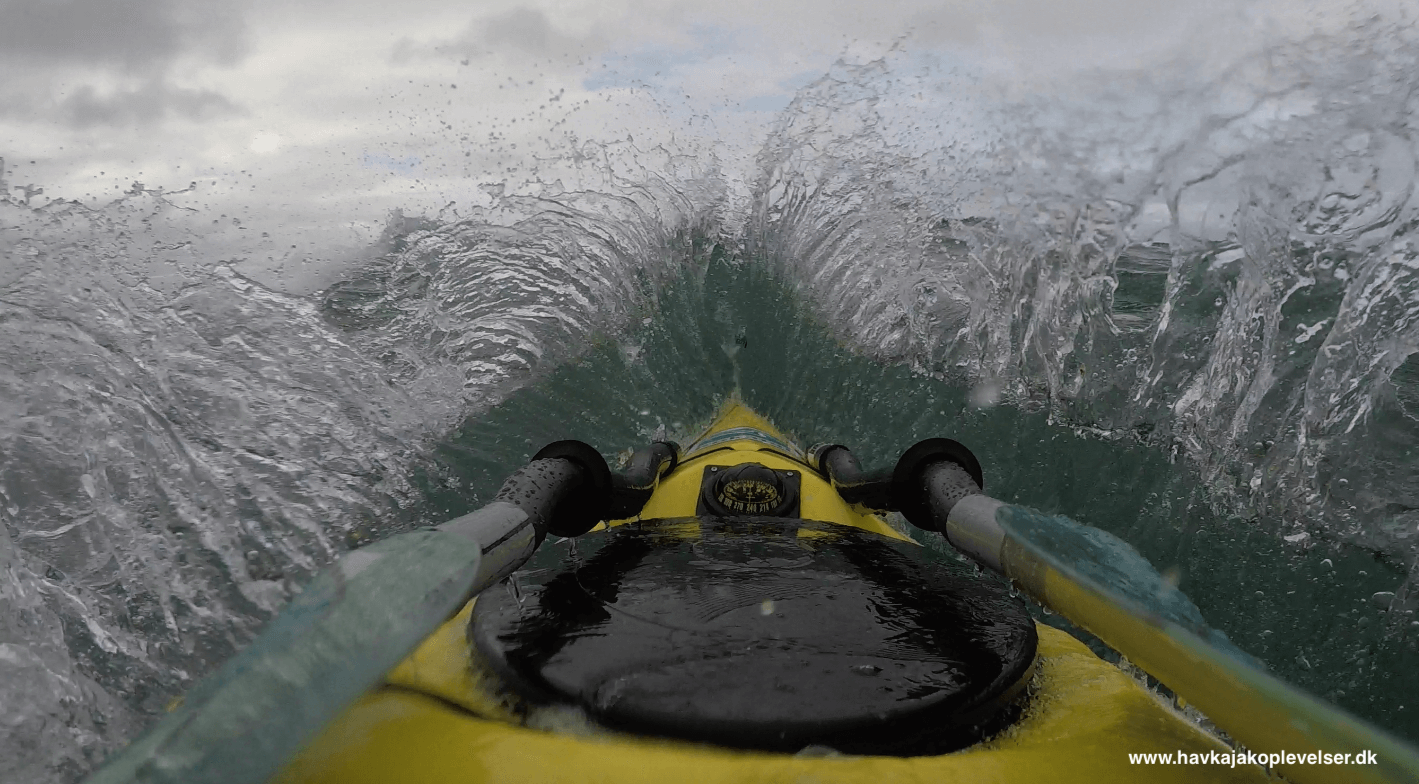 - Her skal der arbejdes med de forhold som er i racet.
- We work with the confused water that is in the race.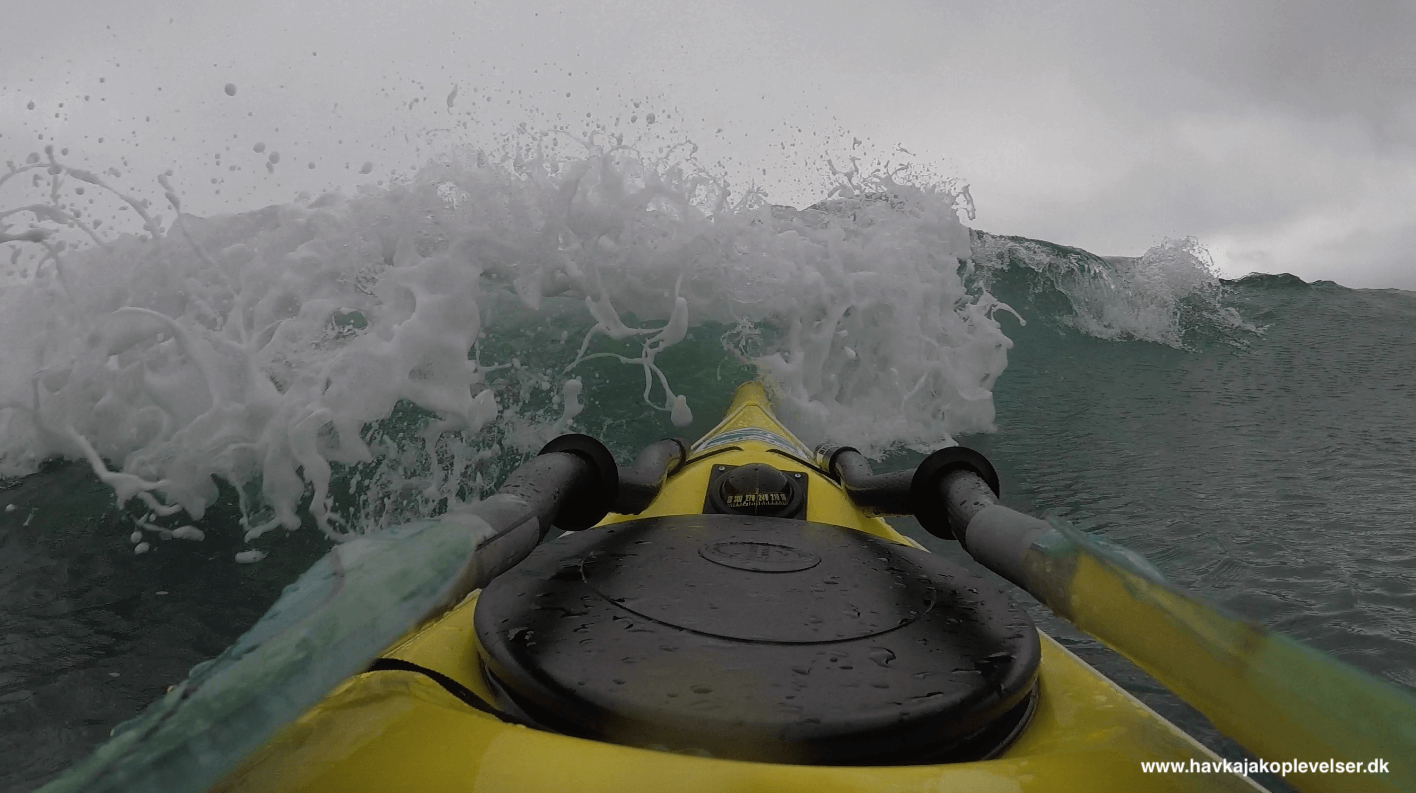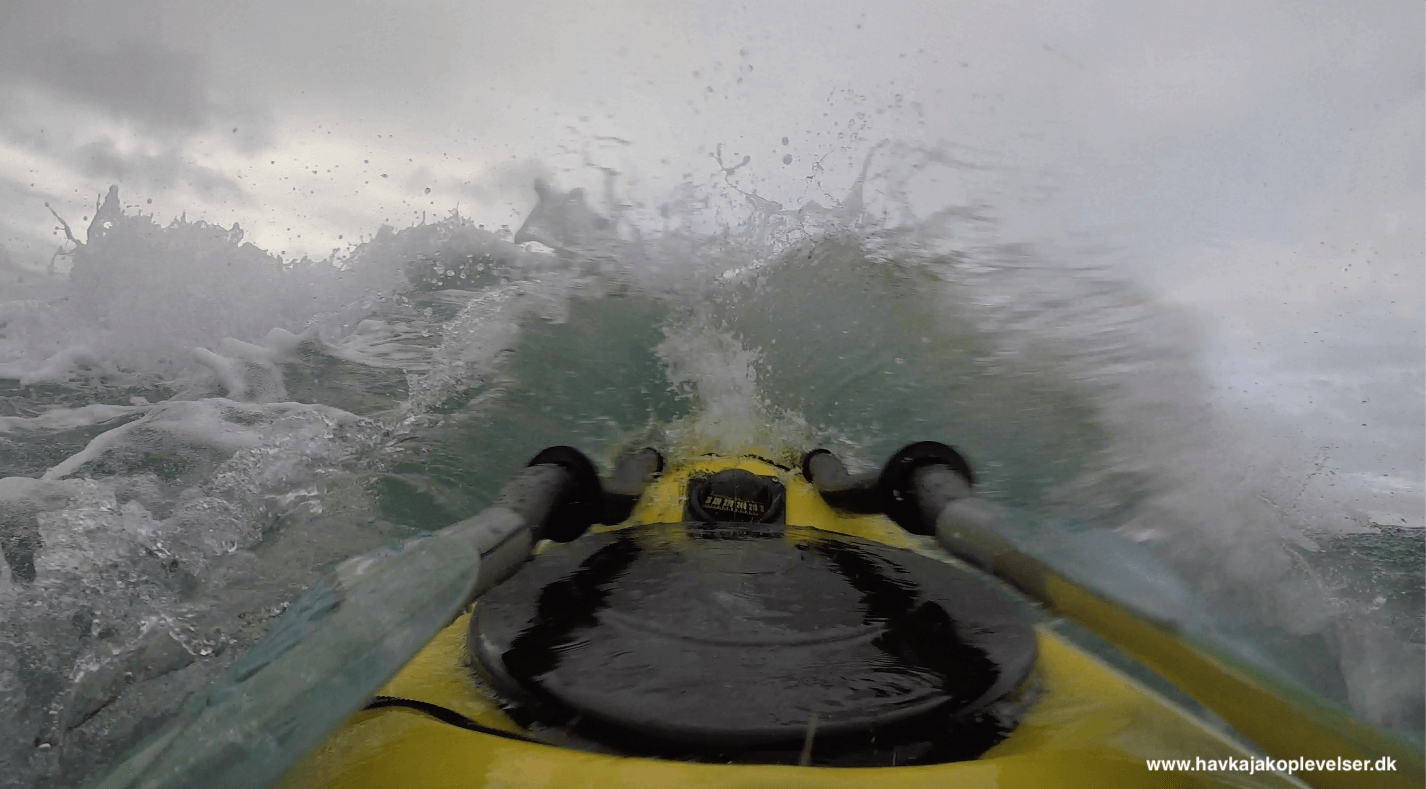 - Udfordrende forhold.
- Challenging conditions.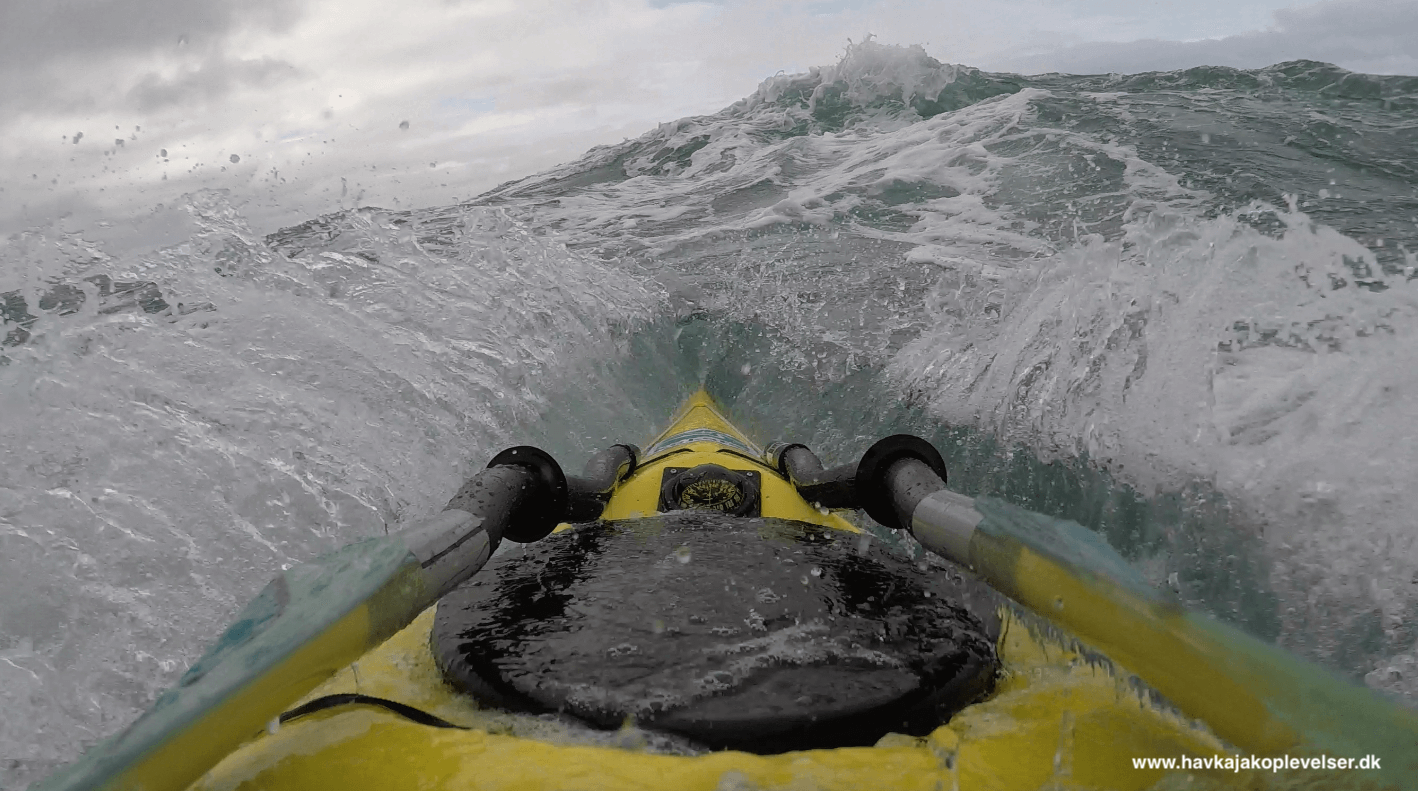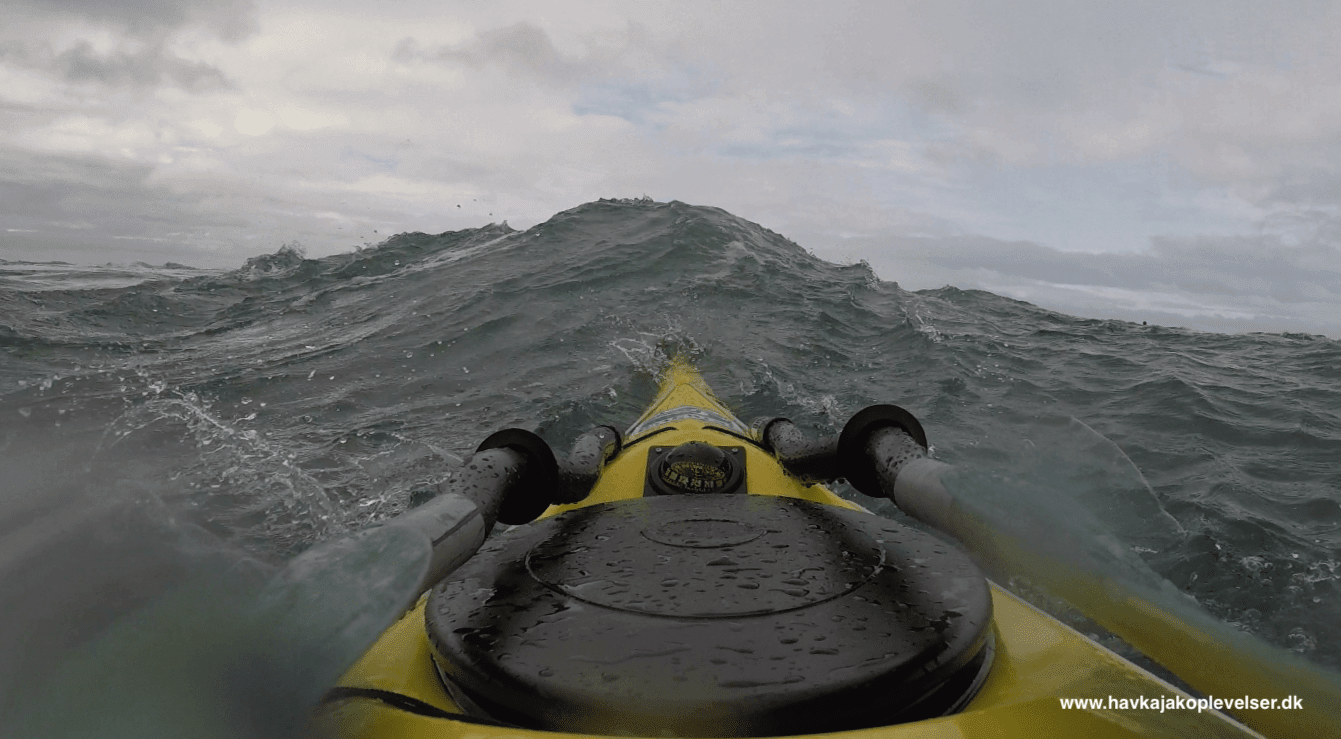 - Vi leger i racet i de timer hvor det løber hurtigst.
- We play in the race for the hours where it runs the fastest.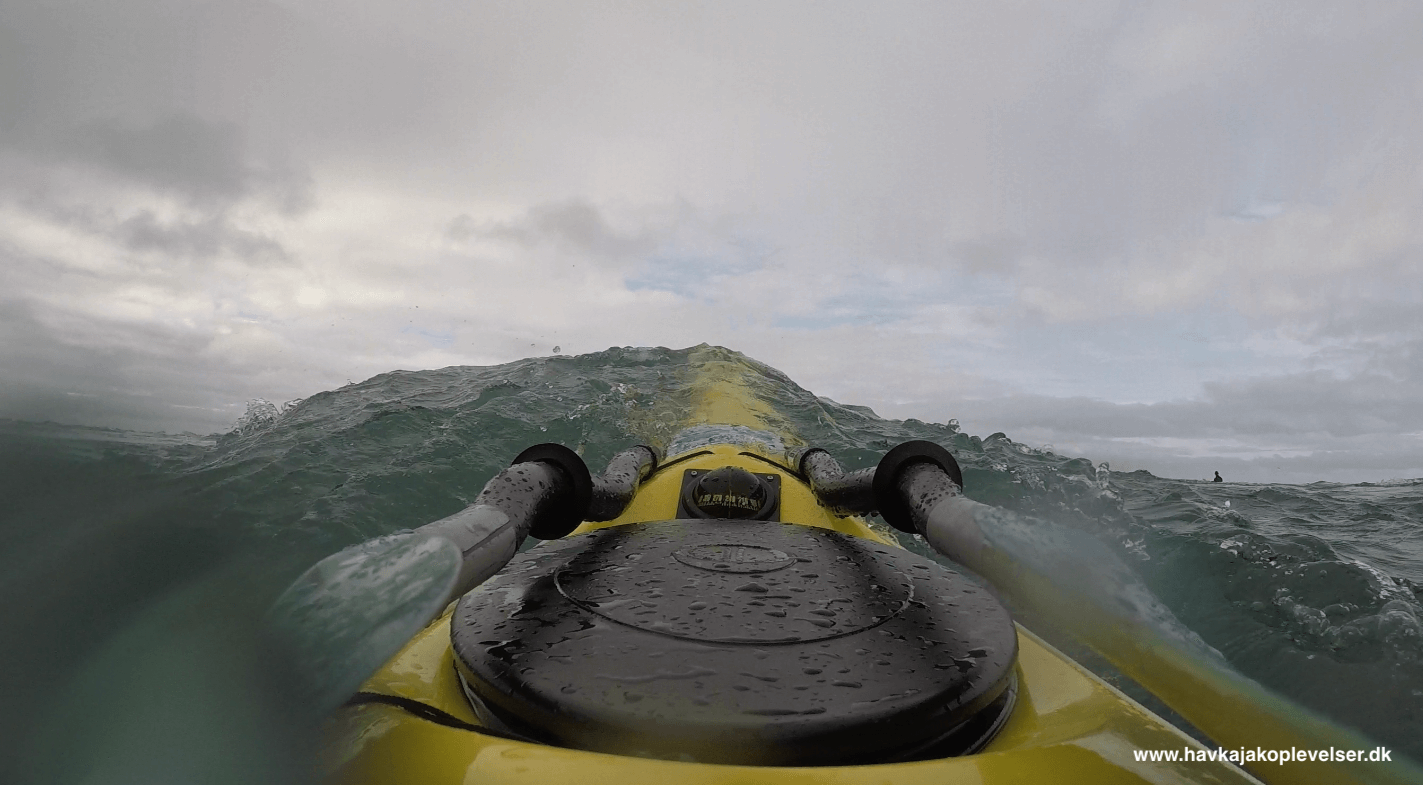 - Surfen på de stående bølger var svær at tage billeder af.
- Surfing the standing waves was difficult to photograph.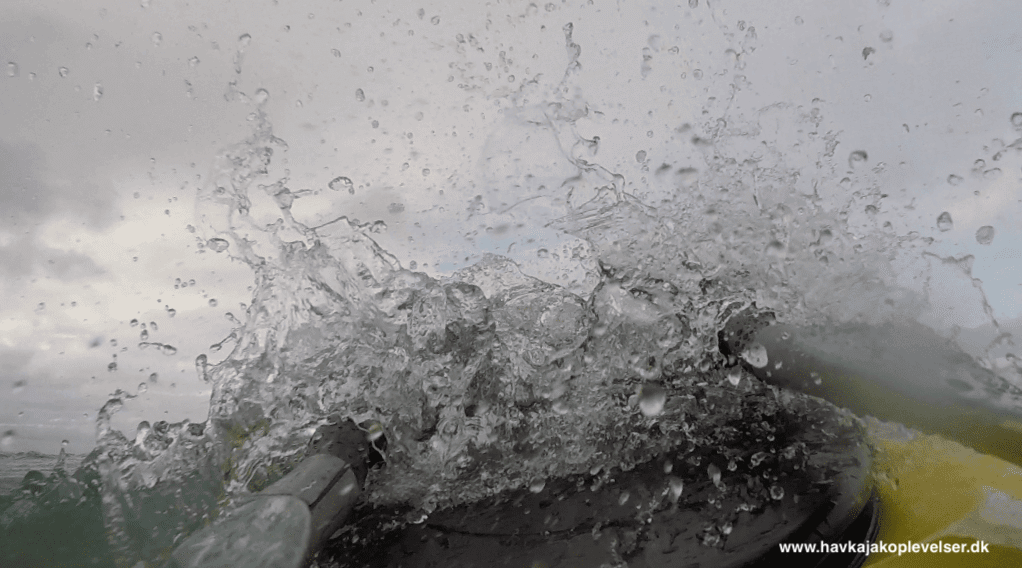 - Det er lidt nemmere at tage billeder på vej ind i racet.
- It's a little easier to take pictures on the way into the race.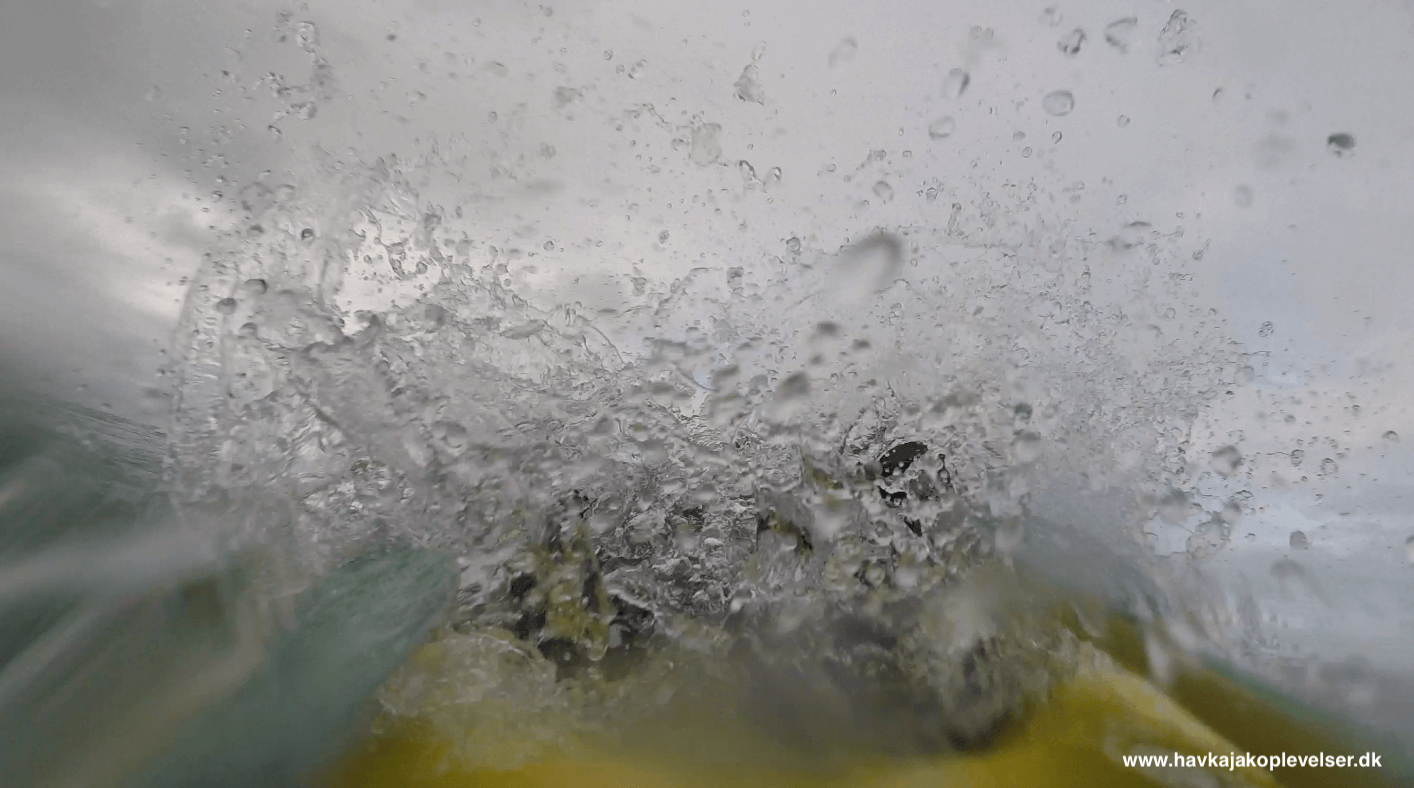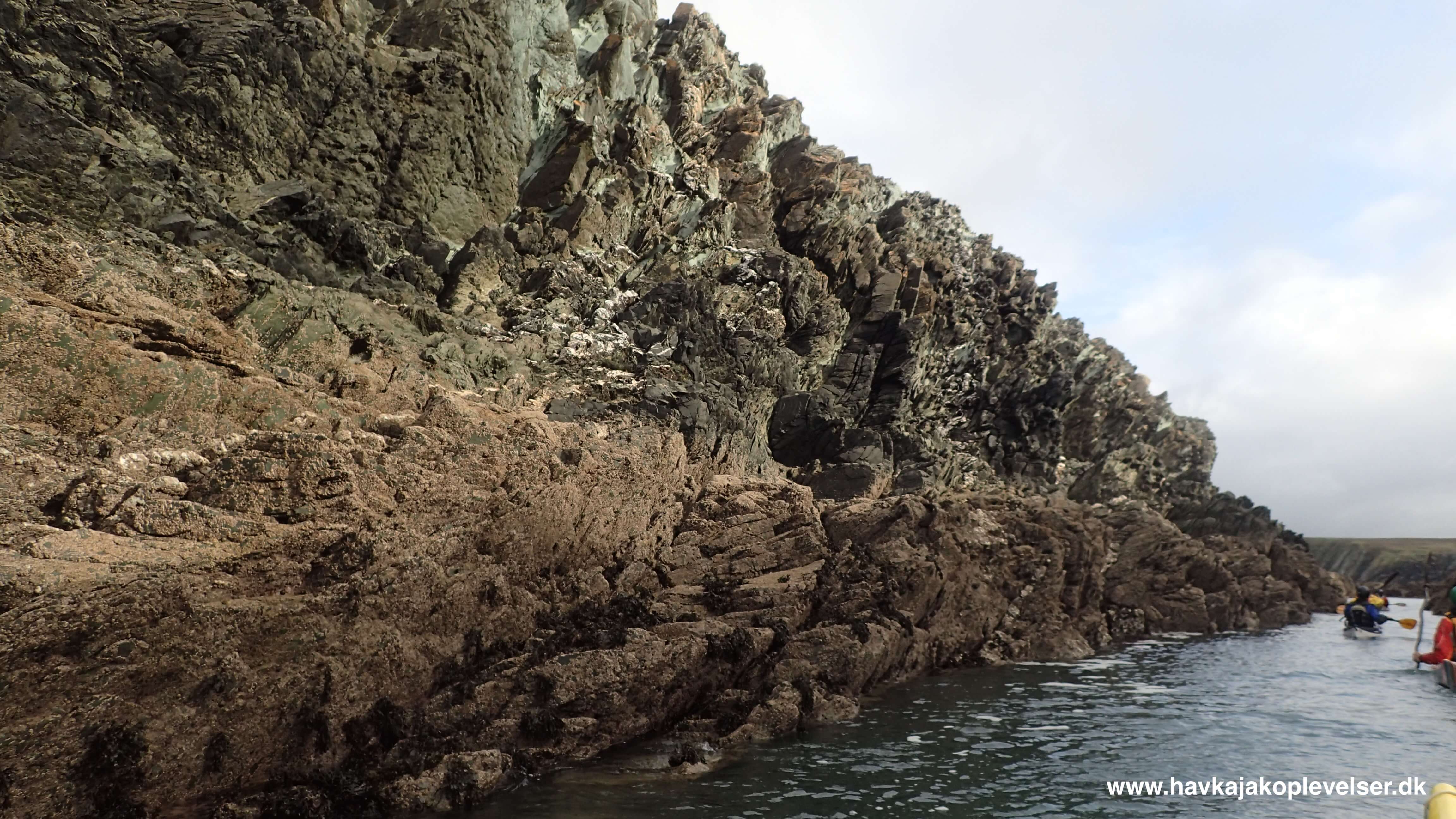 - I en kombination af aftagende fart i racet, og trangen til en pause, søger vi lidt rolige forhold.
- In a combination of declining speed in the race, and the urge for a break, we are looking for a little calm conditions.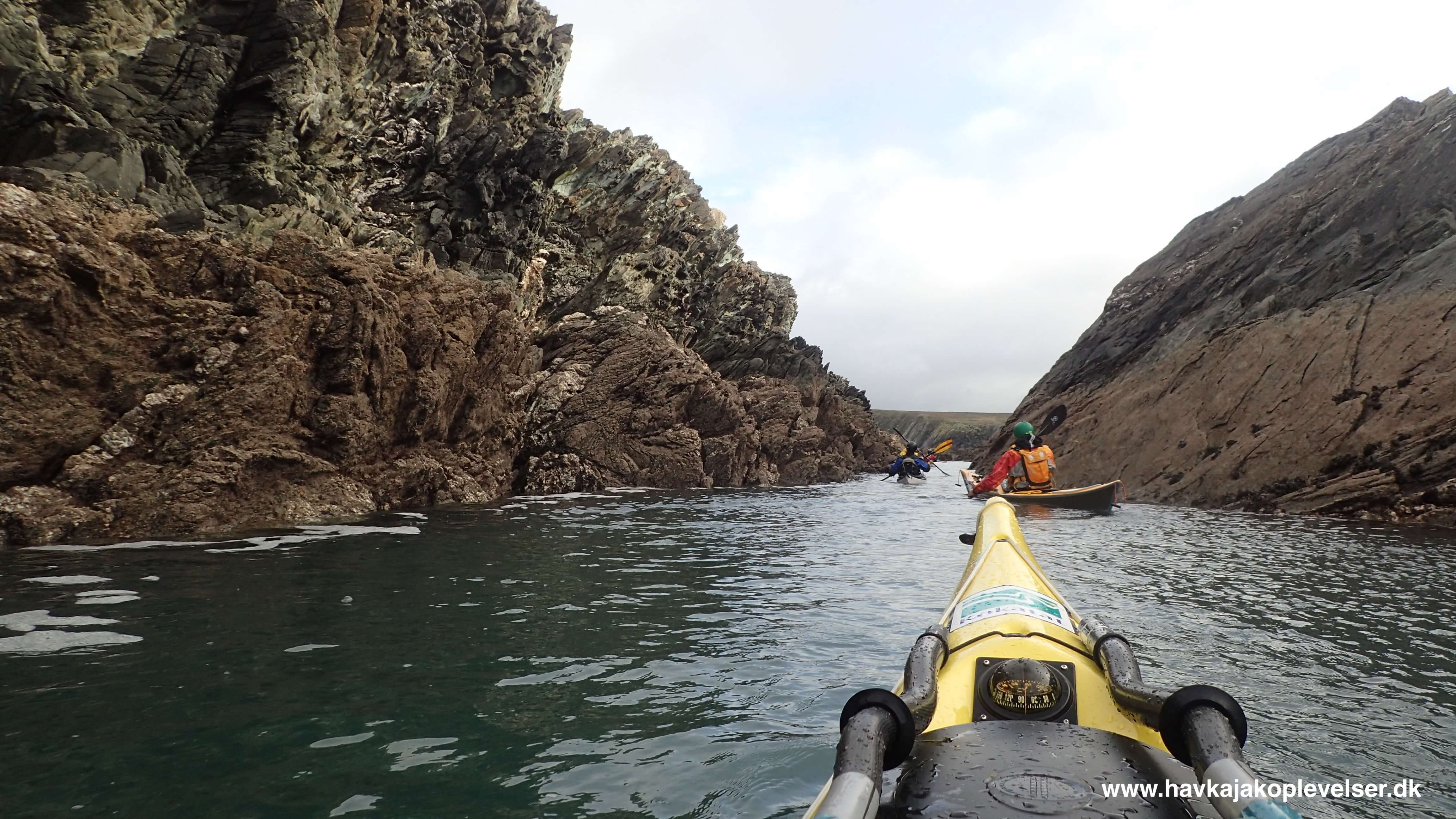 - Kontrasten er slående
- The contrast is striking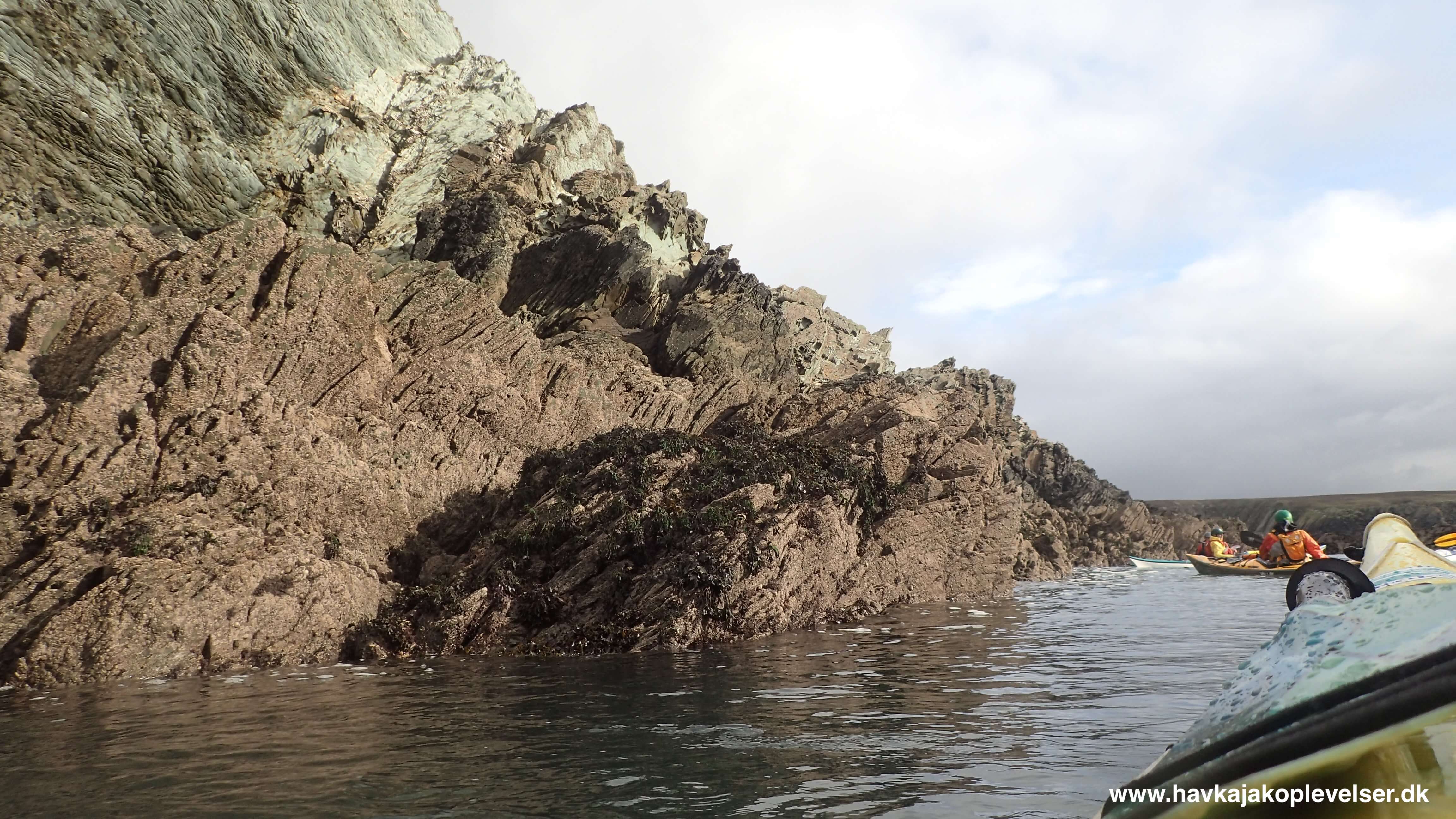 - Helt roligt vand mellem klipperne, og det kun ganske kort fra selve racet.
- Completely calm water between the rocks, and only a very short distance from the race itself.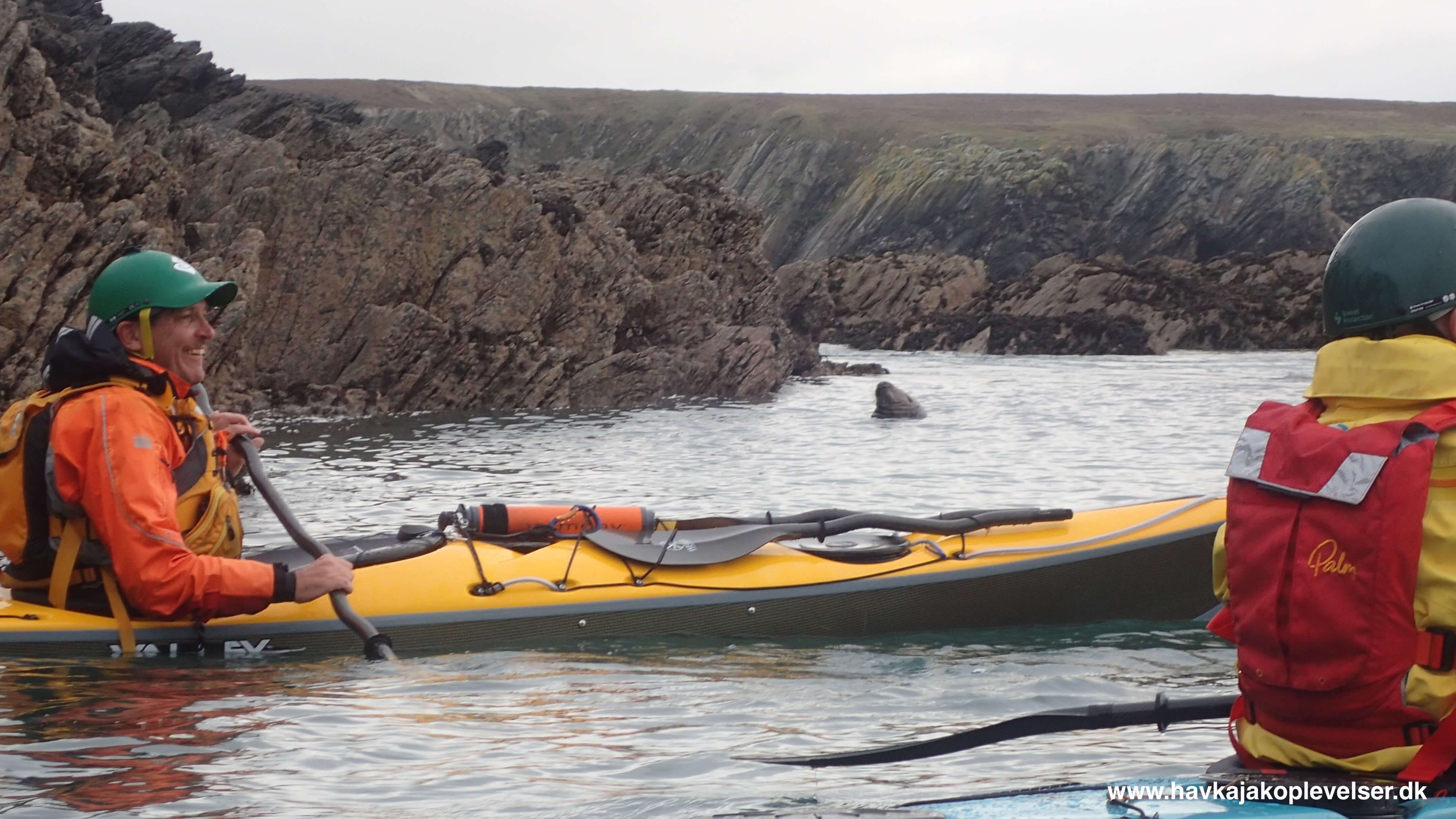 - Penrhyn Mawr er fantastisk !! Mens roen i kroppen vender tilbage holder endnu en gråsæl øje med os.
- Penrhyn Mawr is amazing !! While the calmness of the body returns, another gray seal keeps an eye on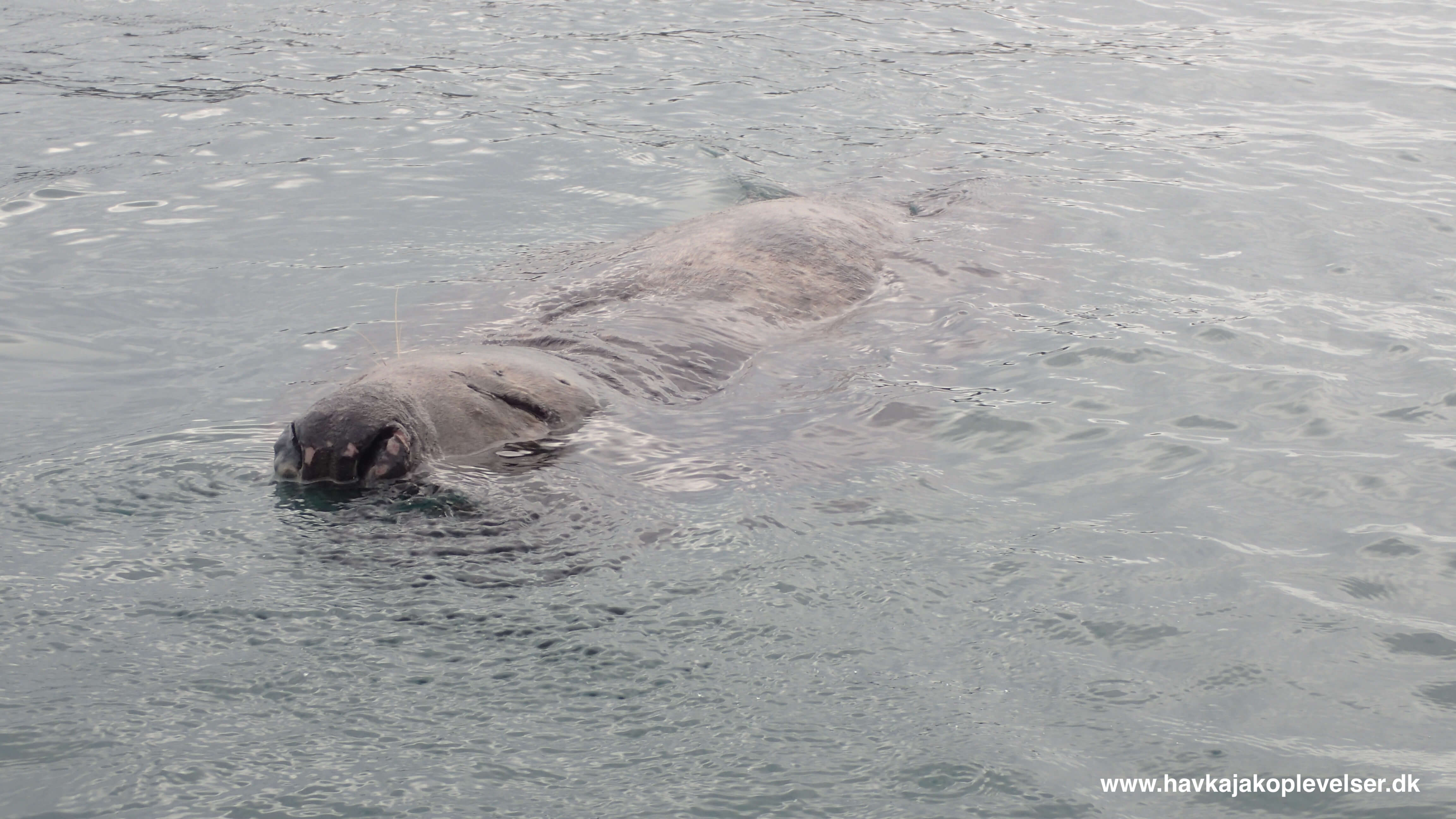 - Og den var nysgerrig.
- And it was curious.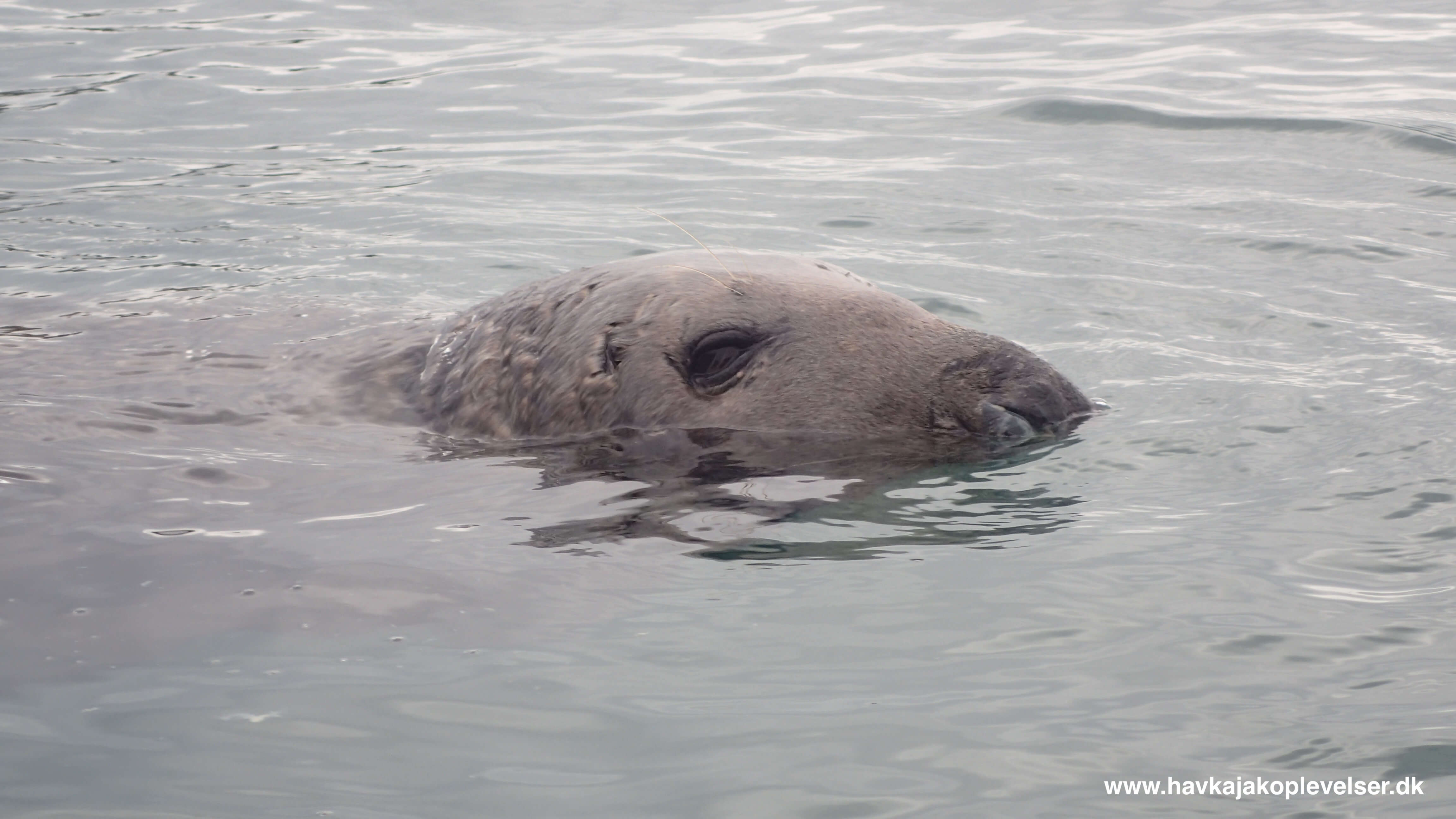 - Meget nysgerrig - billedet er taget uden brug af zoom.
- Very curious - the picture was taken without using zoom.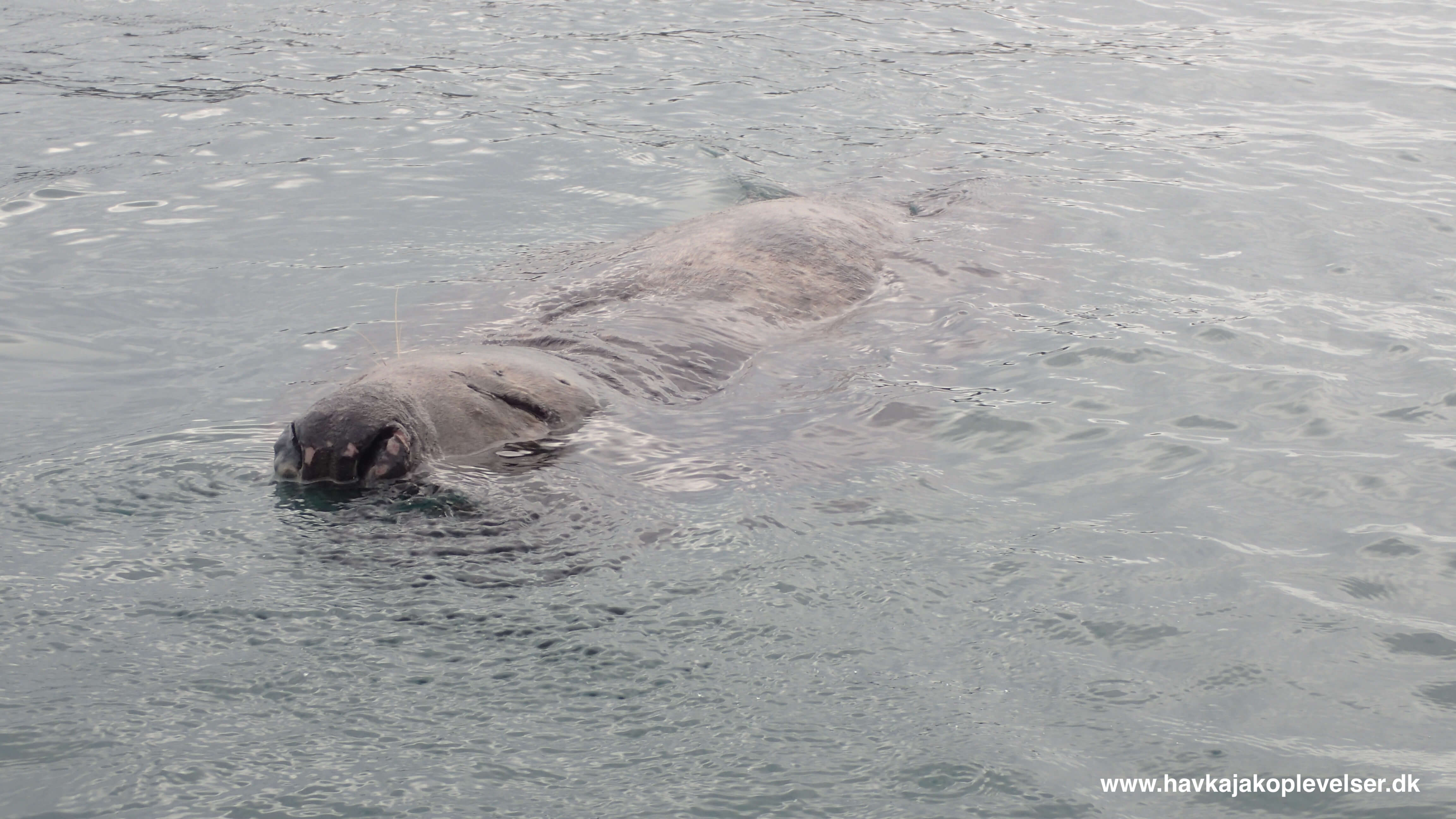 - Da den har set nok til os, dykker den og forsvinder lige så stille.
- When it had seen enough of us, it dives and disappears completely silent.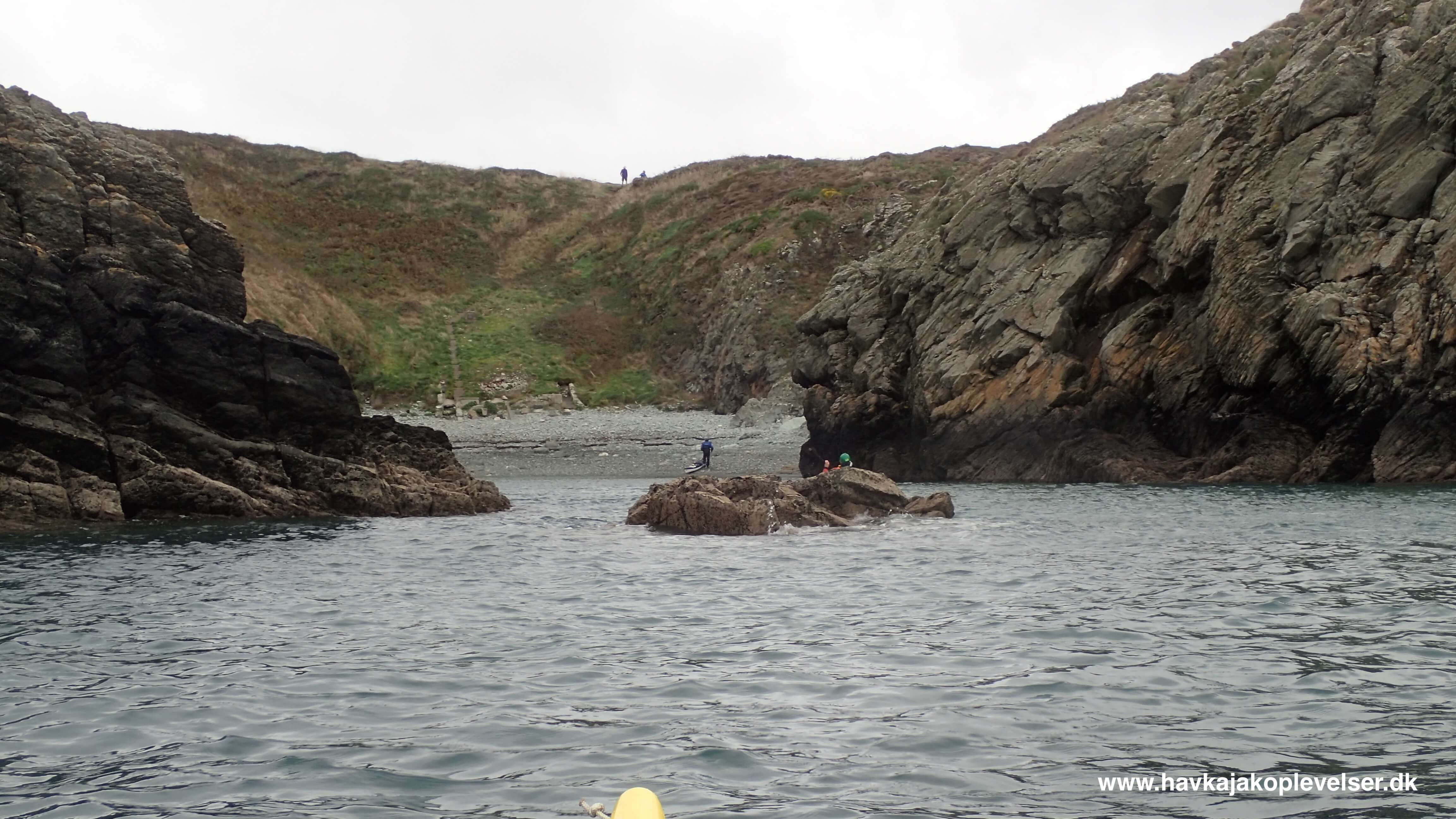 - Tid til en sen frokost på en af de få strande der ligger gemt inde mellem klipperne.
- Time for a late lunch on one of the few beaches hidden between the rocks.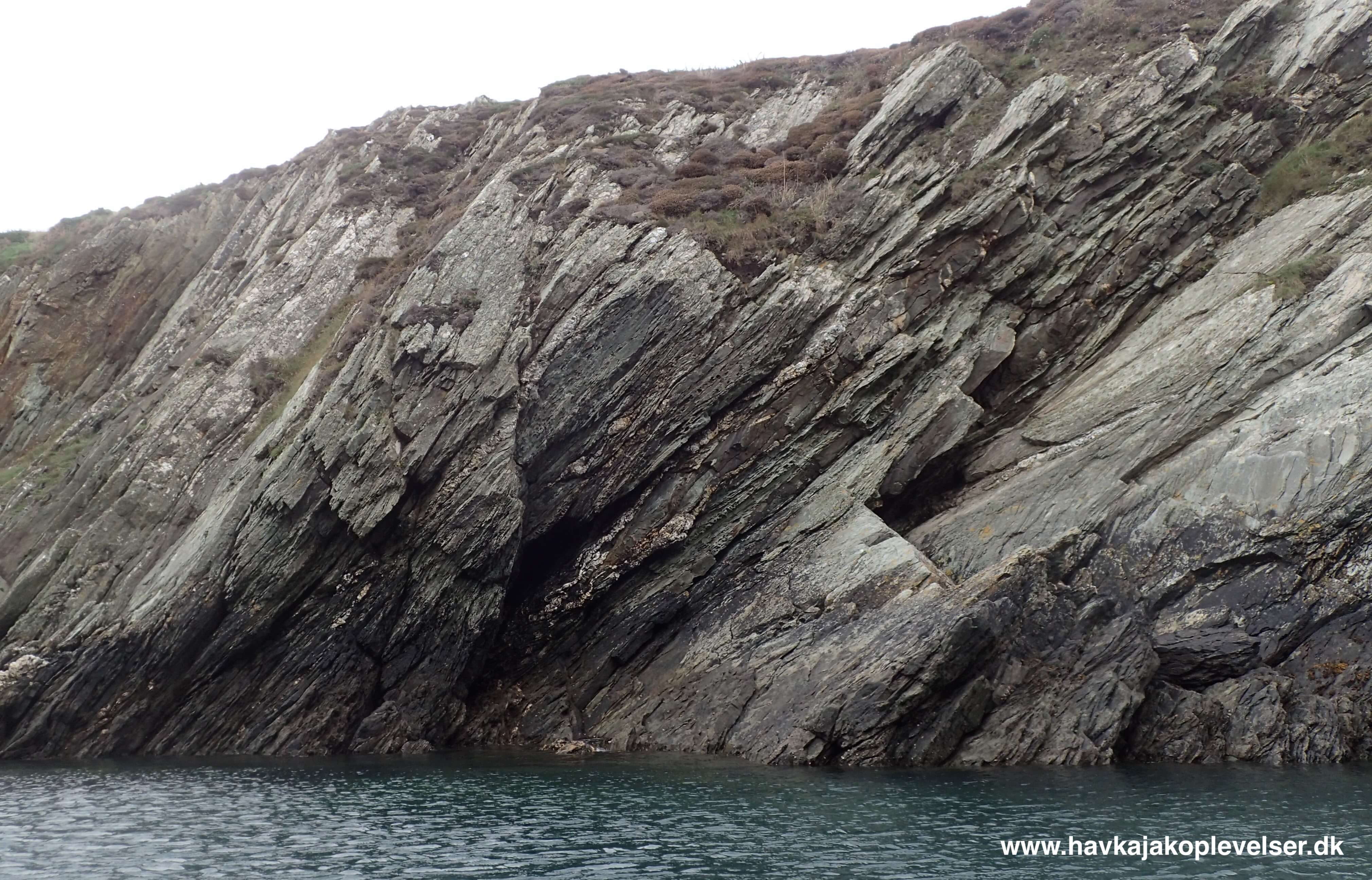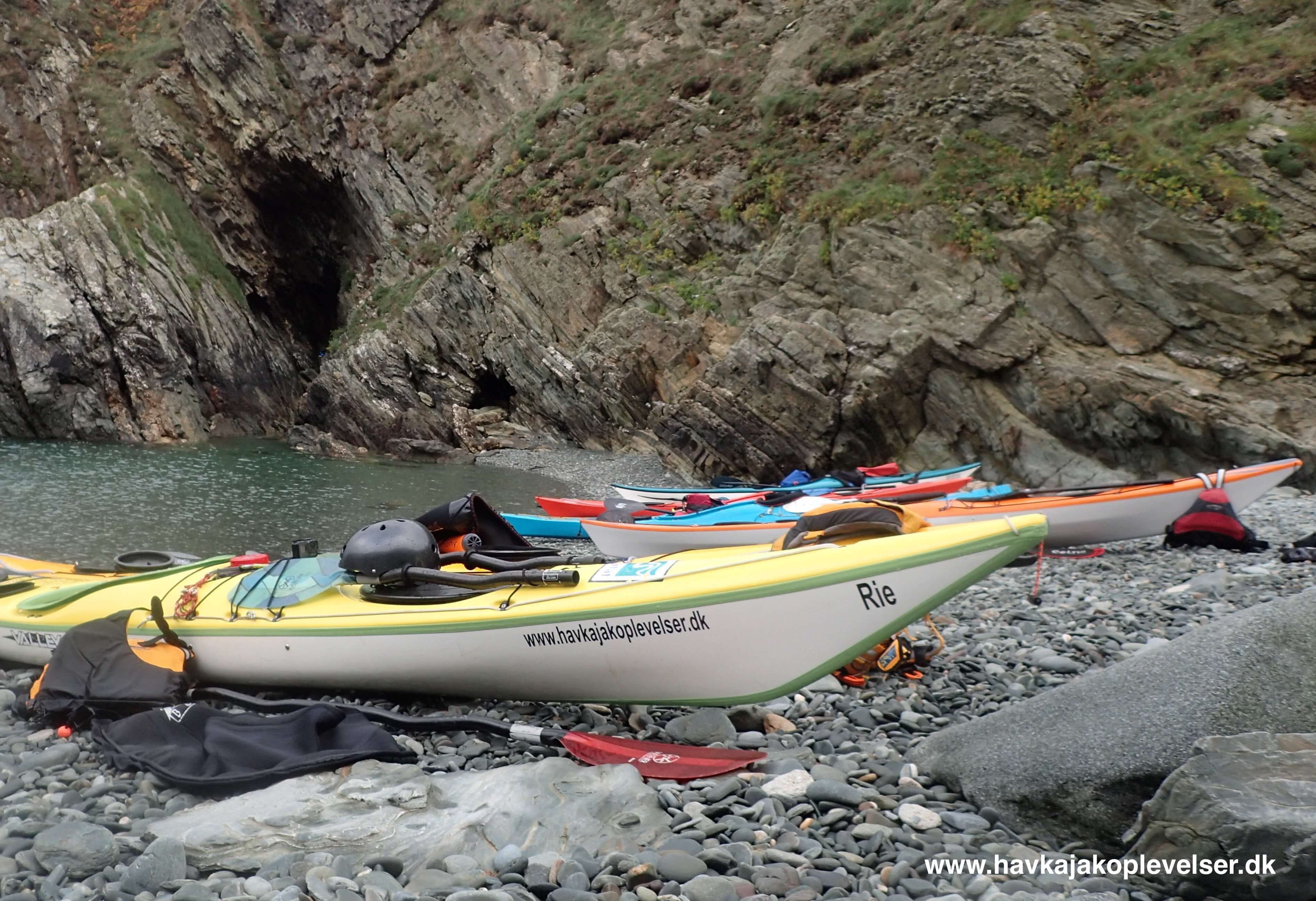 - Vi lander på den isoleret stenstrand.
- We land on the isolated shingle beach.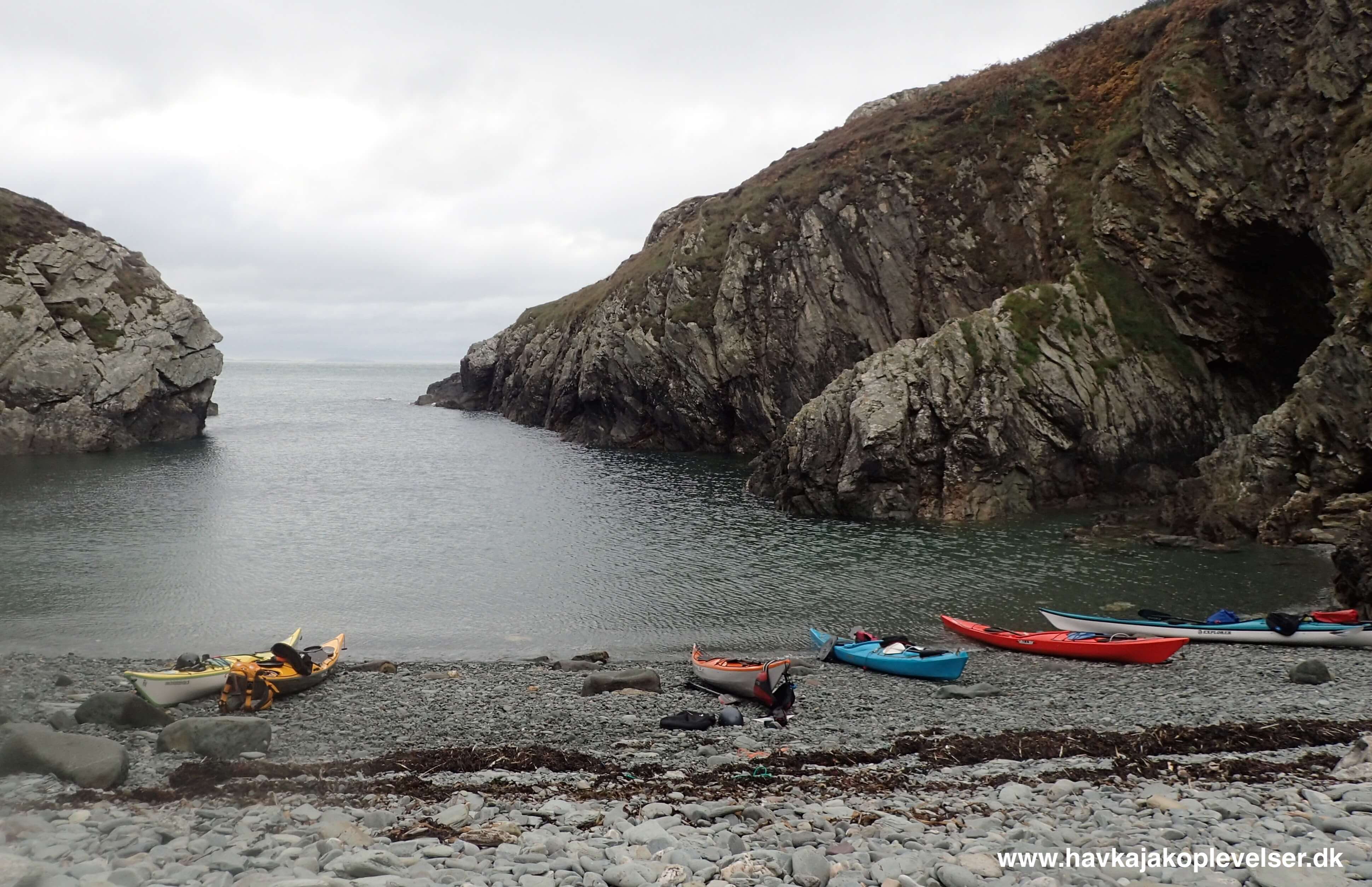 - Igen har jeg følelsen af at være langt væk fra alt hvad der minder om civilation.
- Again, I have the feeling of being far away from all civilization.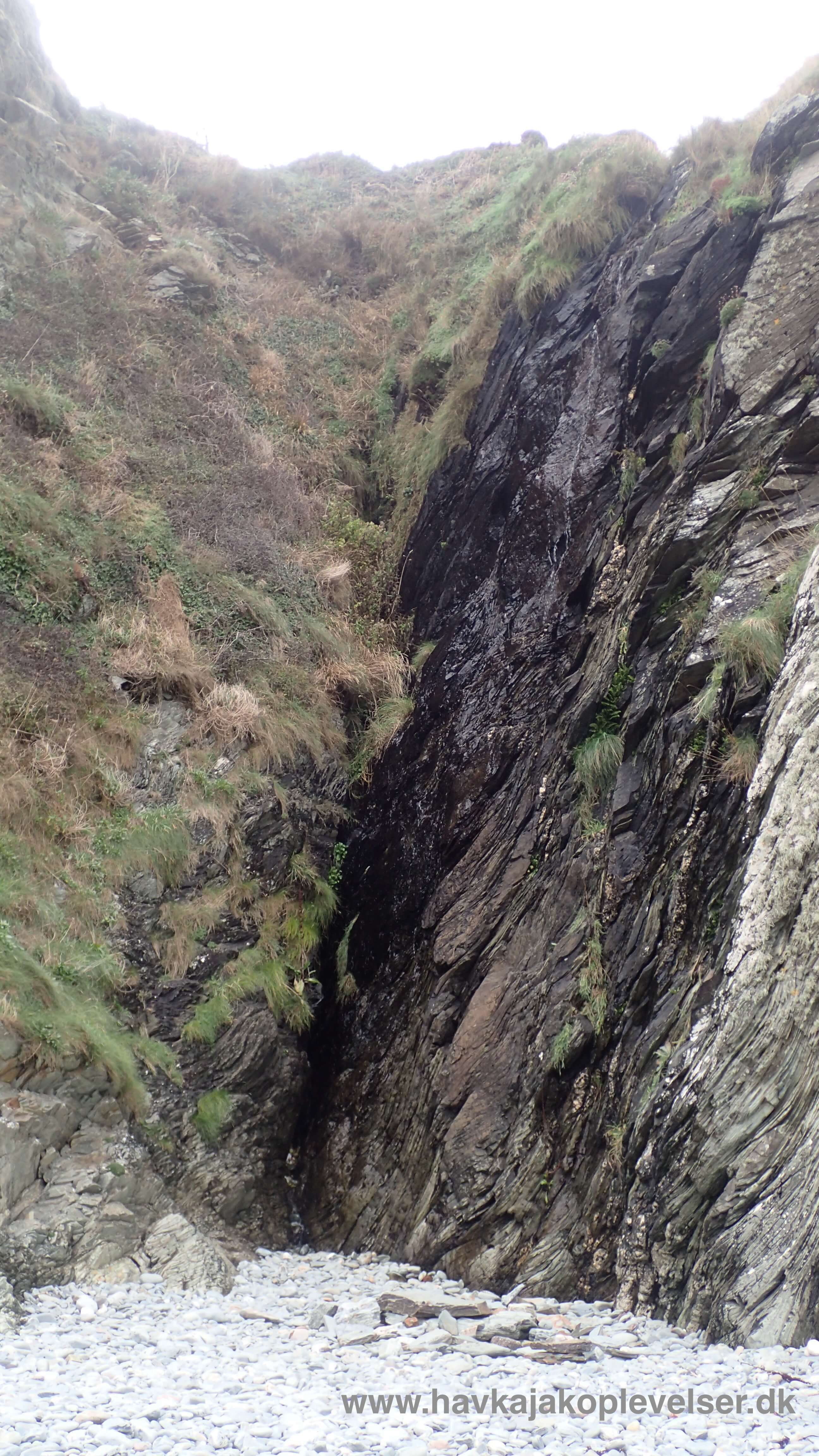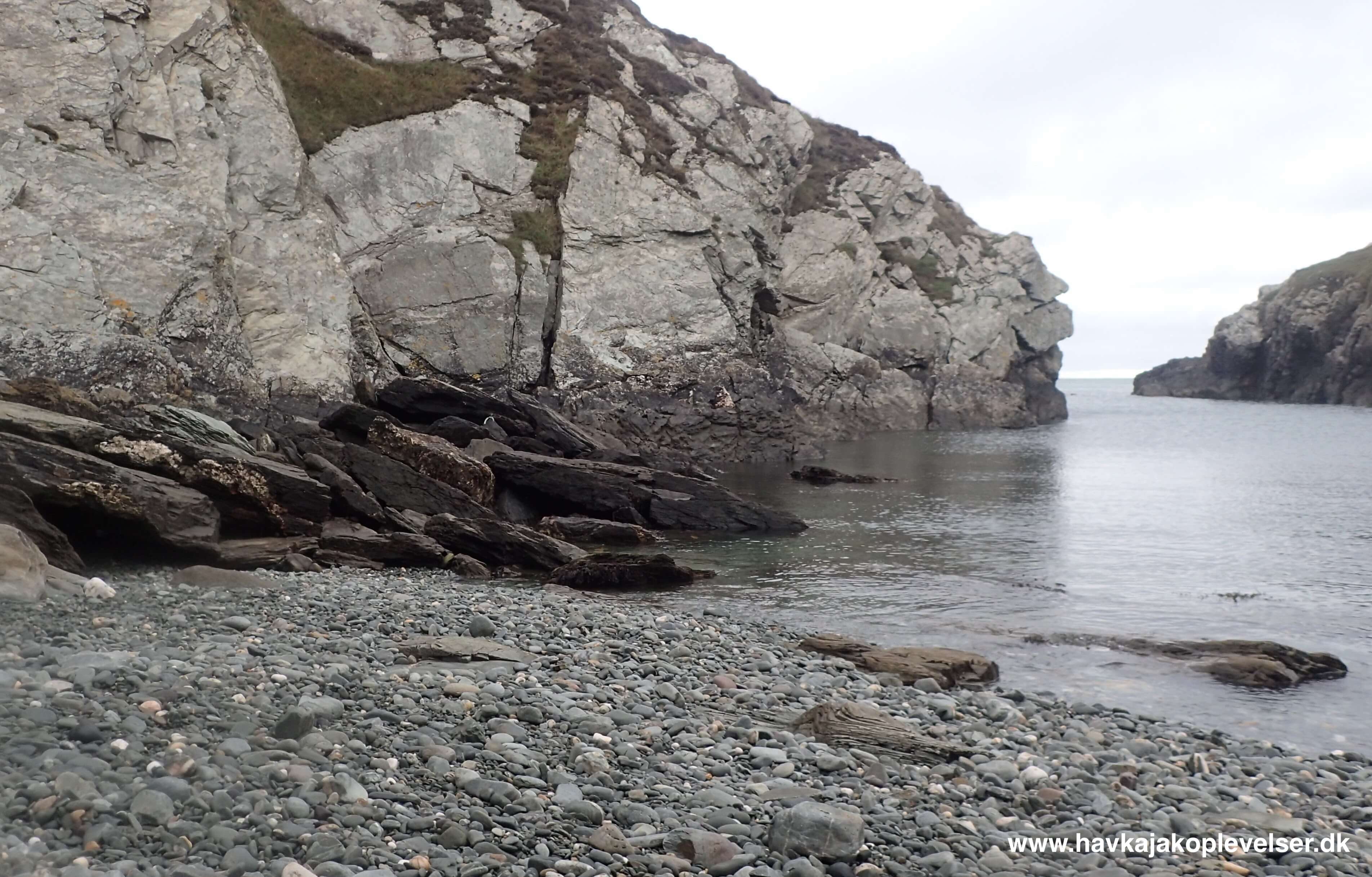 - De mange forskellige nuancer og sceneriet er fantastisk.
- The variety of shades and the scenery is amazing.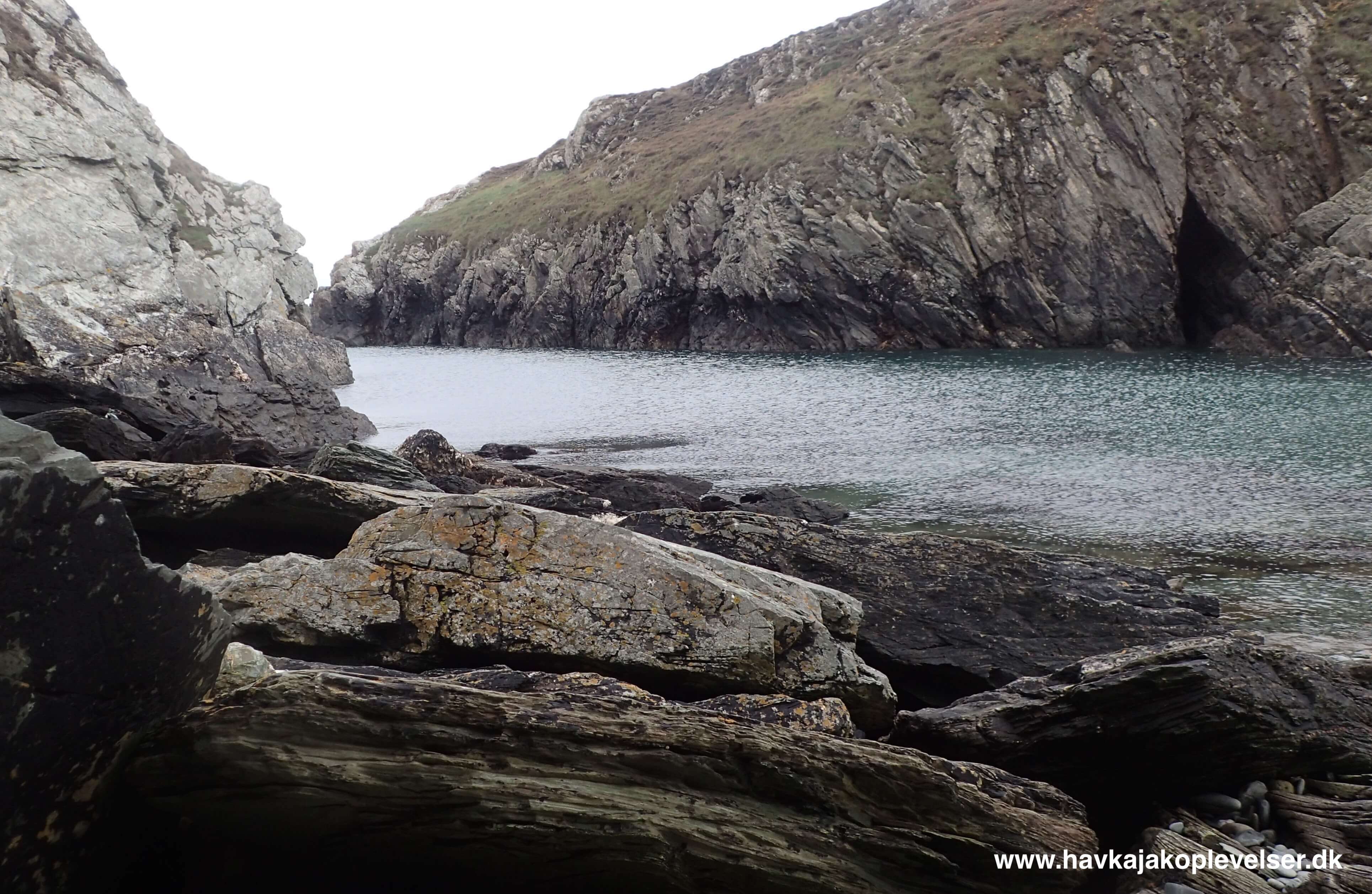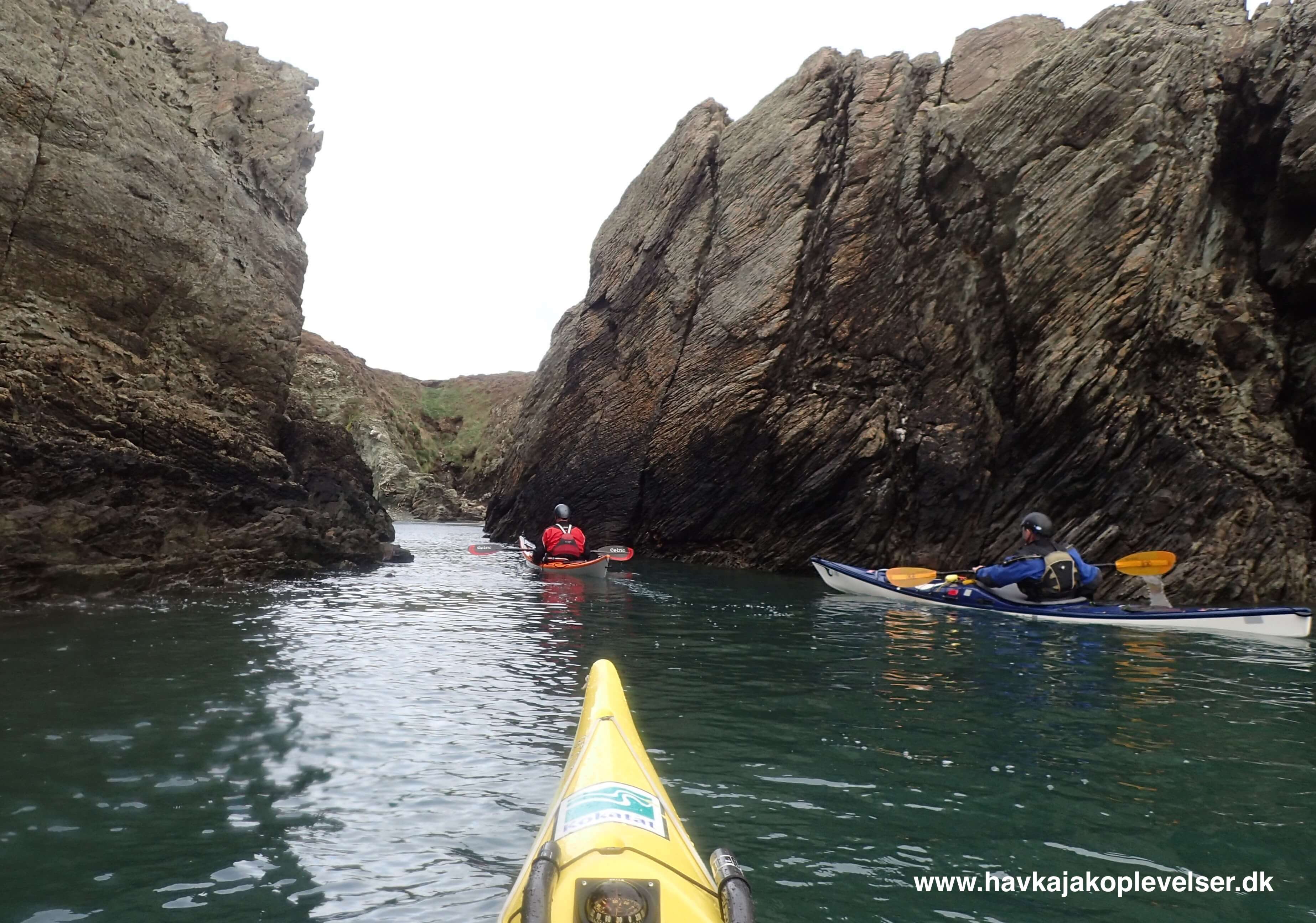 - På vandet for at udforske lidt af kysten mod South Stack.
- Back on the water to explore a bit of the coast towards the South Stack.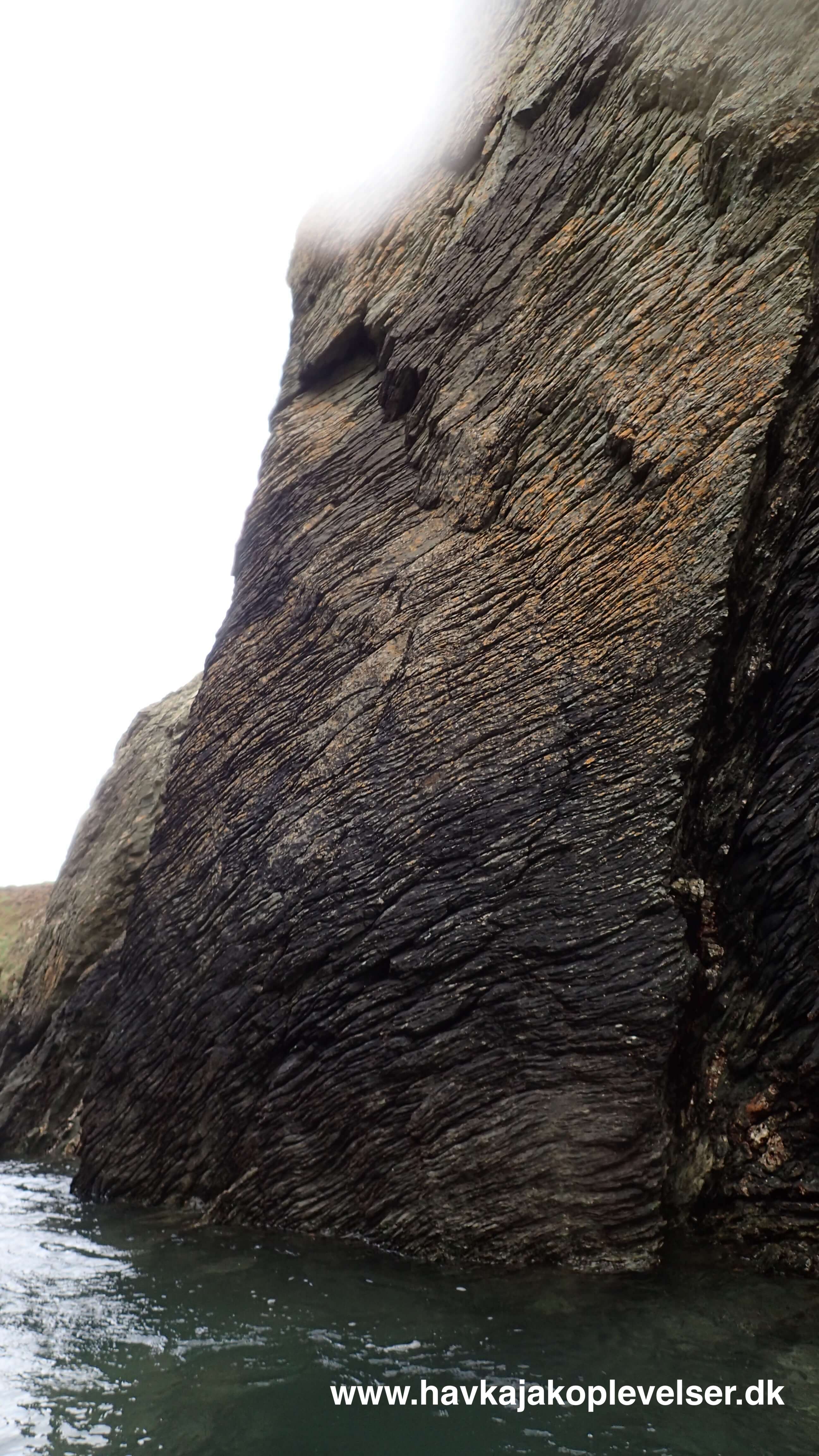 - Her er grotter, som vi desværre ikke har mulighed for at komme ind i.
- Here are caves that we unfortunately do not have the opportunity to get into.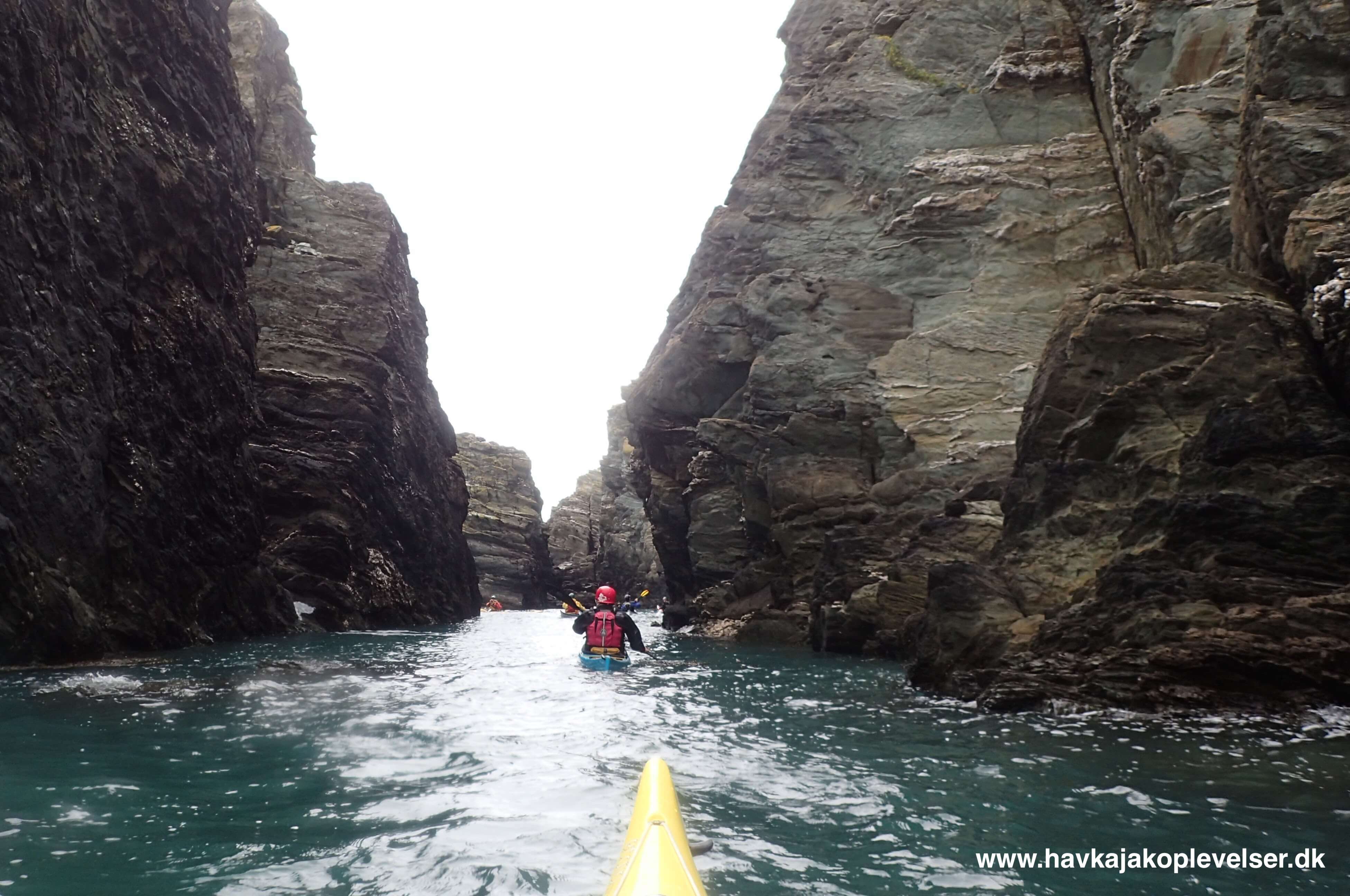 - Snævre passager.
- Narrow passages.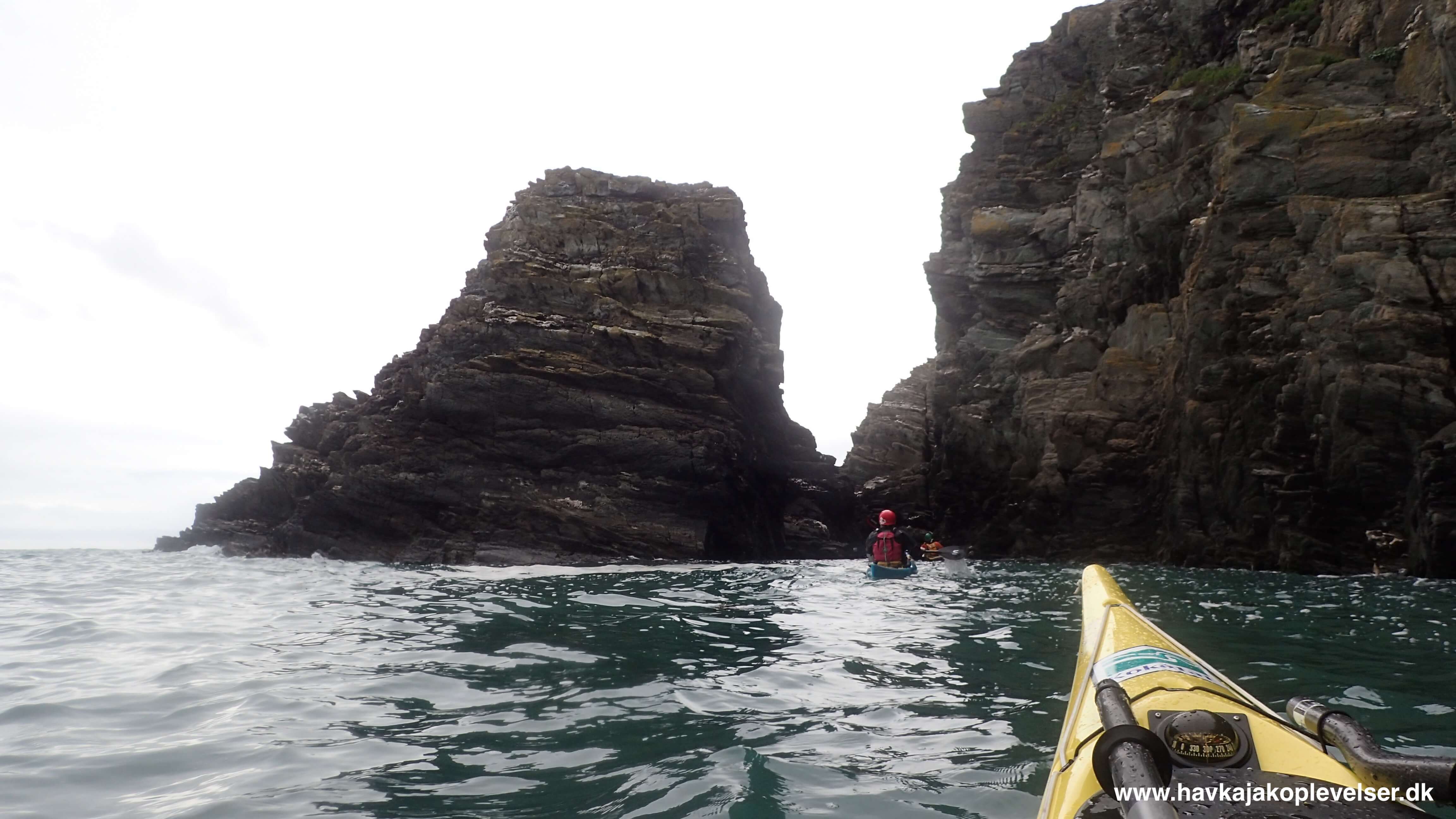 - Og store stacks.
- And big stacks.

- Vi får et kig til det ikoniske fyrtårn på South Stack inden vi vender om for at ro tilbage mod Porth Dafarch.
- We get a look at the iconic lighthouse on the South Stack before turning around to paddle back to Porth Dafarch.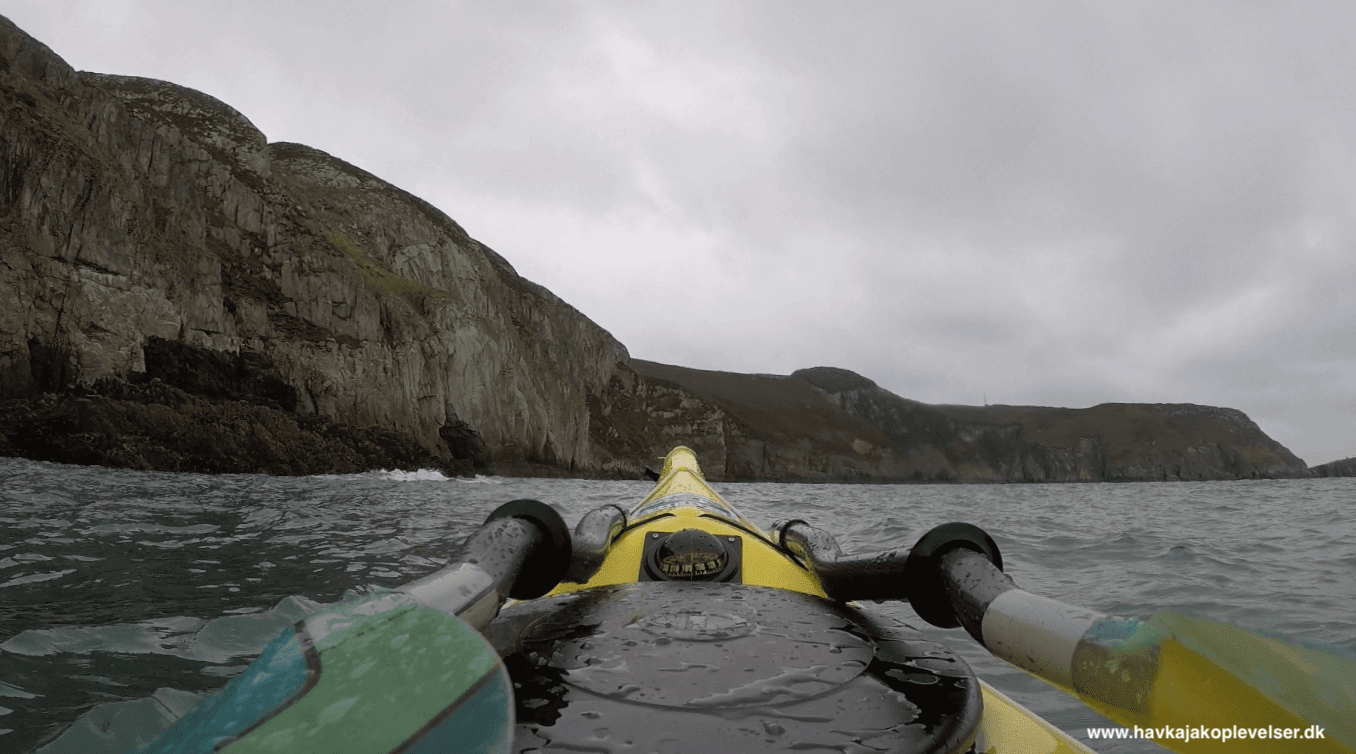 - Endnu en gang imponeres jeg over skønheden Anglesey byder på.
- Once again, I am impressed by the beauty that Anglesey offers.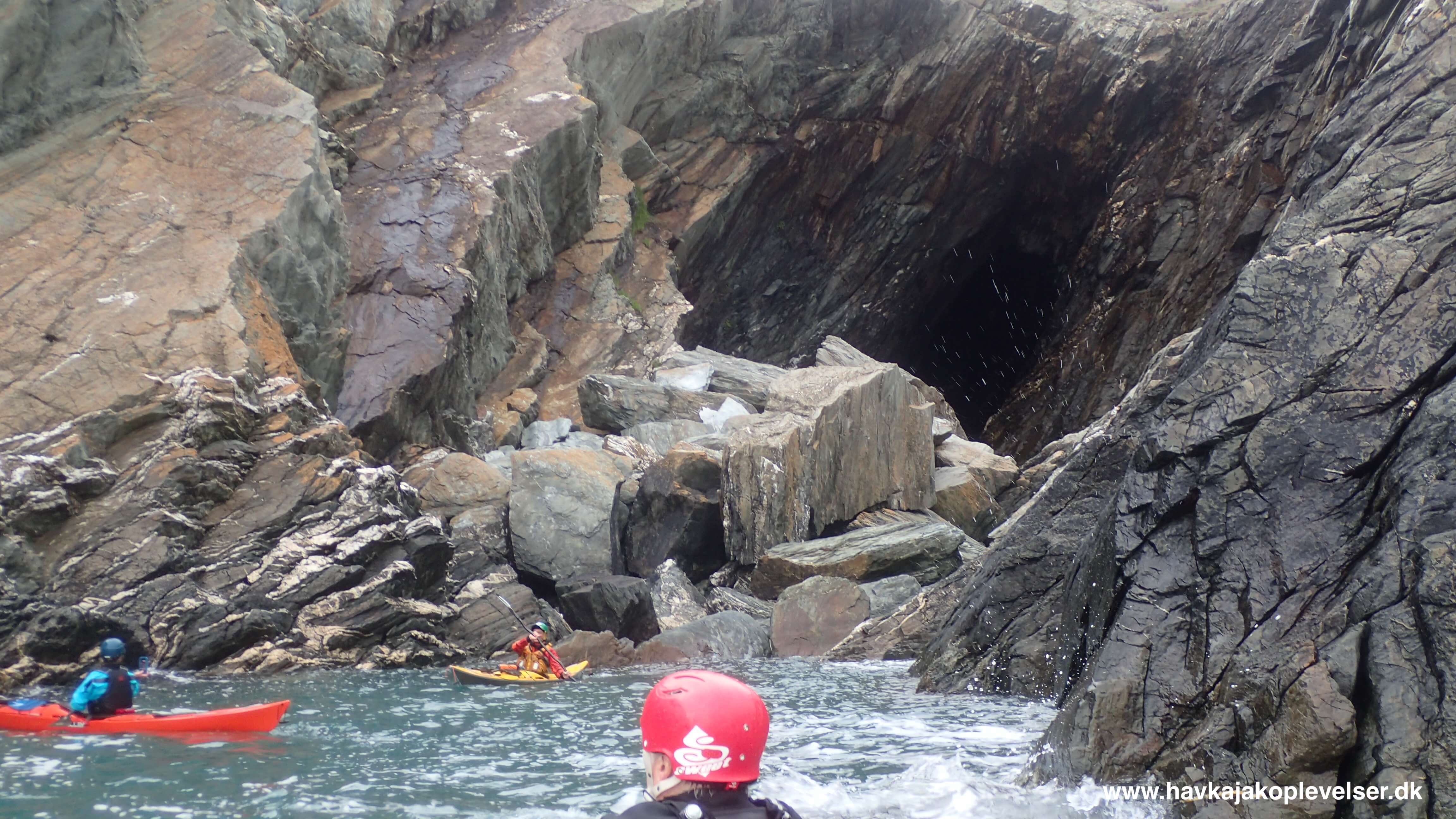 - Vi må lige ind og se på en sammenfaldet grotte, og de enorme klippestykker på vejen retur.
- We just have to get look at a collapsed cave, and the huge boulders on the way back.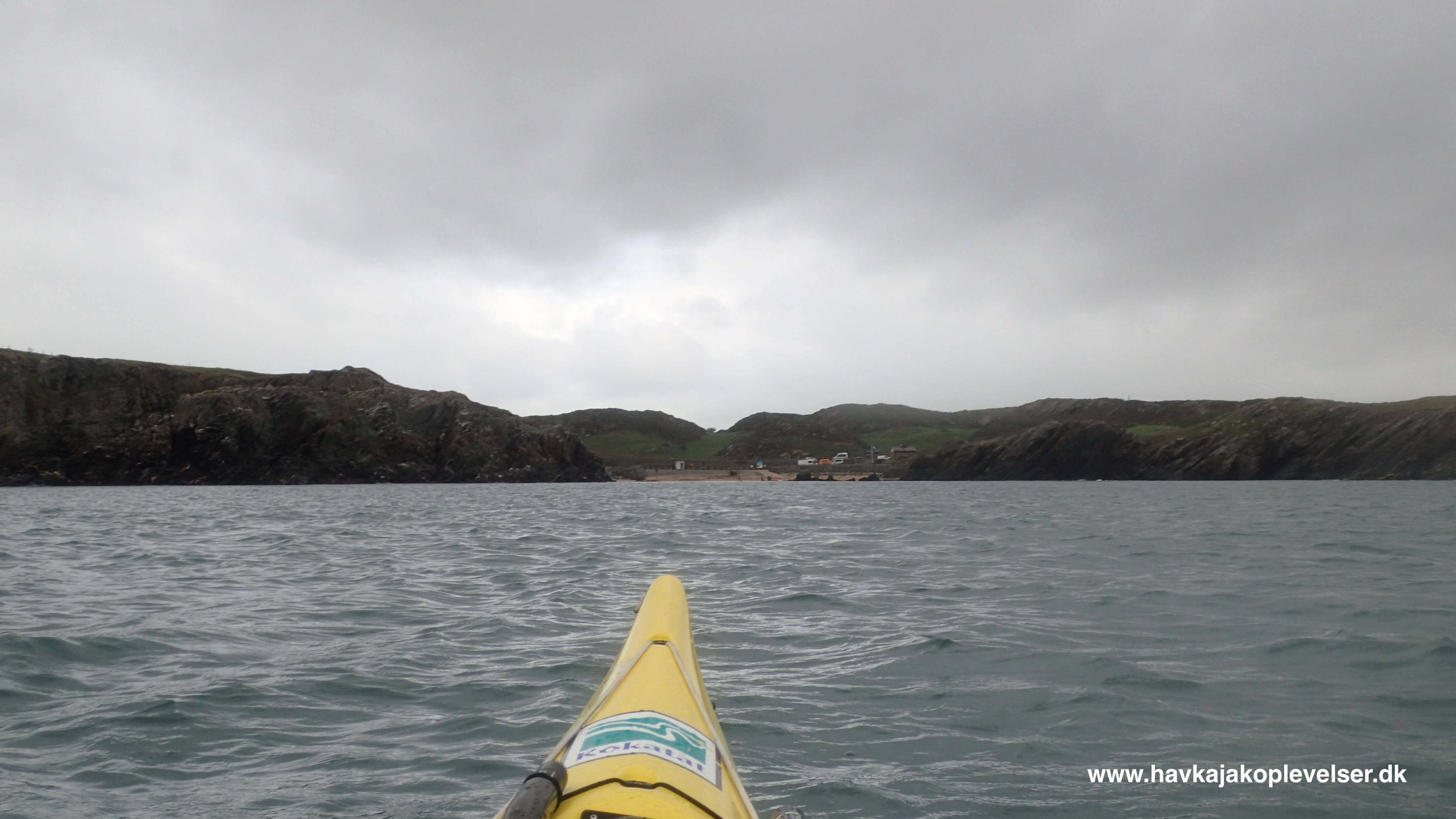 - Turen tilbage er i medstrøm da tidevandet er vendt.
- The trip back is downstream as the tide has turned.
- Tilbage på stranden i Porth Dafarch efter en fuldstændig fantastisk dag.
- Back on the beach in Porth Dafarch after an absolutely amazing day.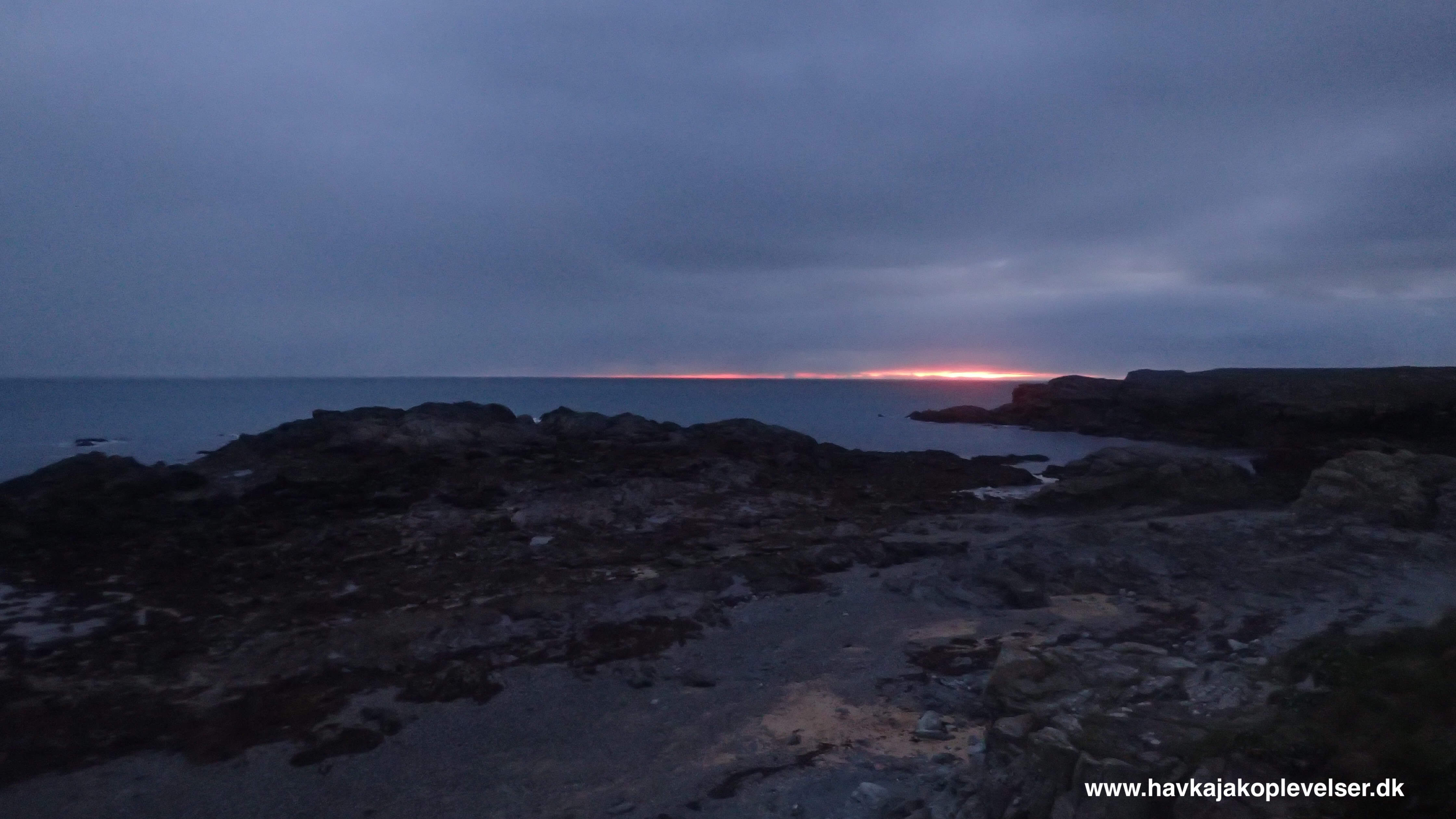 - Dagen sluttes af med en fantastisk solnedgang over det Irske hav.
- The day ends with a stunning sunset over the Irish Sea.
Venlig Hilsen / Best Regards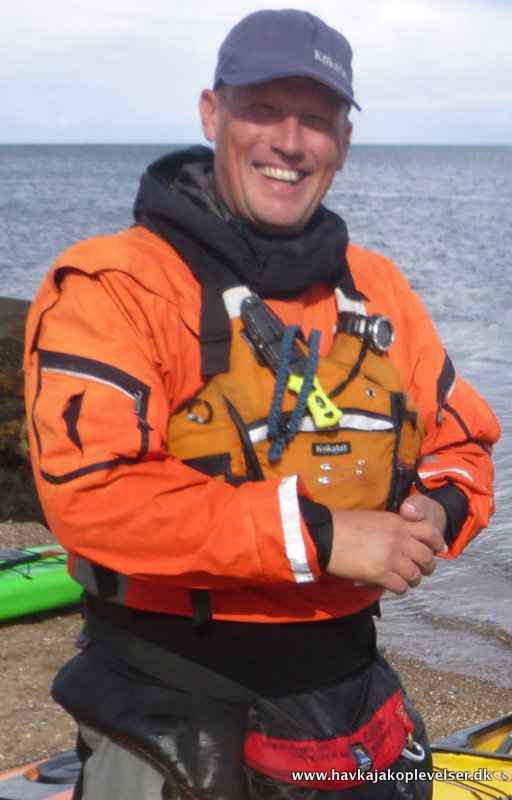 Christian Wiegand
Facebook: Tosset med havkajak / Mad about sea kayak
Instagram: cwseakayaking
#comevisitdenmarkforapaddle